These Data Take the Pulse of Chinese Consumers Amid Trade Fears
(Bloomberg) -- As a trade war looms, economic growth slows and the yuan weakens, China watchers are focused on the question of whether consumers are still spending big or tightening their belts.
Household consumption was 39 percent of China's economy last year, and is rising in importance as investment growth slows due to trade tensions and government efforts to cut debt. While the headline data shows growth slowing down and recent anecdotes indicate some consumers are becoming more pessimistic, there's a wide range of official and private indicators available that give a more complex picture.
Overall, people's appetite for services remains robust, even if the growth rate for buying goods is slowing. But while sentiment is largely intact, employment and income data point to a gradual slowdown.
Here are some indicators that provide a read on what's happening:
The official data on retail sales, which rose 8.8 percent last month, includes some government and business spending but individual services such as haircuts or movie nights are not properly registered.
That's why Nicholas Lardy, a China expert at the Peterson Institute for International Economics in Washington, looks at quarterly per-capita expenditure data. "China's large and still growing middle class is spending a growing share of their rising income on education, health care, travel, and other services that are not captured in official data on retail sales," Lardy wrote in a recent note.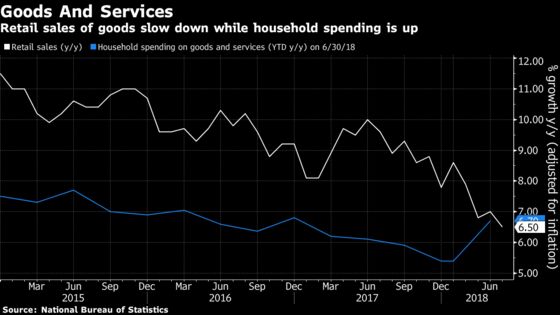 Within the services sector, spending on fitness and athletic activities surged 39 percent from a year earlier in the first half, outlays on hotel and accommodation jumped 38 percent and on household services it rose 33 percent, according to the National Bureau of Statistics. Expenditure on telecommunication declined as carriers cut fees.
Even when people are buying goods, they're increasingly doing it online instead of in physical stores. Internet shopping jumped 29 percent in July. That's confirmed by data from China's second-largest e-commerce platform JD.com, who reported rapidly rising jewelry, cosmetics and office supply sales. An index of "consumption upgrades" based mostly on JD statistics also signaled that consumers are still shifting purchases to higher-end goods this year, despite slower momentum in July.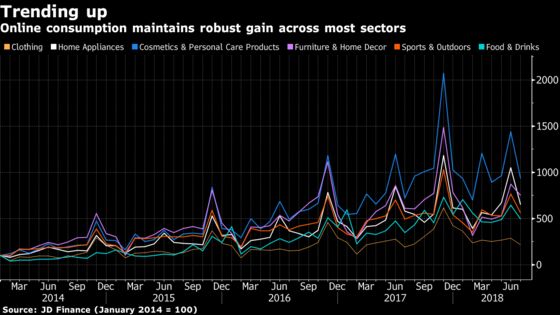 However, the top 100 retail offline firms posted a 2 percent net decline in July, according to China National Commercial Information Center, with clothing and home appliances among the worst performers. Shopping malls and convenience stores also faced pressure in the second quarter, according to a Commerce Ministry report, though overall activities are expanding.
Specific types of spending provide additional depth on what's happening. Guests checked into luxury hotels more frequently but were swiping their cards less at restaurants, according to data from the nation's largest bank card network. Car sales slumped for a second straight month in July, with purchases of SUVs -- long seen as a sign of comfortable middle-class -- posting net declines from a year earlier.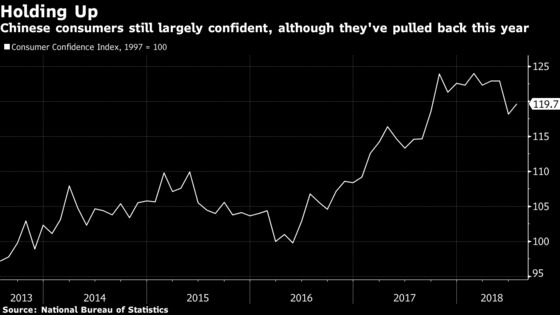 Consumer confidence remained largely intact, according to surveys from an institution affiliated to the statistics bureau. But that index has fallen from a peak early this year, signalling rising risks to the outlook. A different sentiment indicator based on bank card data from the official Xinhua News Agency and China UnionPay Co. edged up in July.
However, worrying signs are emerging for the fundamentals of Chinese consumption, with risks to job availability and rising incomes. The surveyed jobless rate rose to 5.1 percent in July from 4.8 percent the previous month, while a private job demand-to-supply ratio fell to the lowest in more than two years in the second quarter.
The trade sector was directly affected by the tension between China and the U.S. last quarter, with demand for jobs decreasing 13 percent from a year earlier, according to Zhaopin Ltd., a recruitment website, and Renmin University of China which jointly compiled the labor gauge. Conditions in biggest cities are particularly tough -- the number of vacancies was below that of job seekers in the top metropolises, while there were more vacancies available than applicants in smaller cities.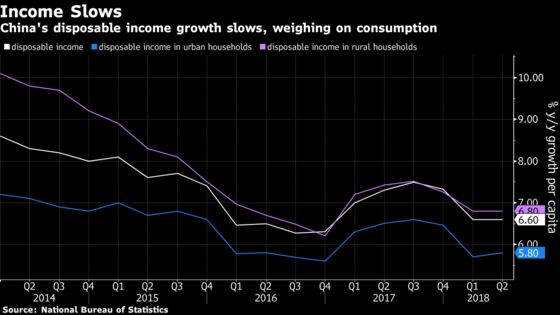 Income growth has also slowed, with the 6.6 percent rise in the first half from a year slower than gross domestic product growth in the same period. Urban households, who are usually wealthier and thus can spend more, saw an even slower pace of expansion, weighing on the long-term prospects.