Pound Investors Face Months of Volatility
(Bloomberg) -- The next few months are going to be fun for pound traders.
The pound fell below $1.29 on Monday after U.K. Prime Minister Theresa May's Brexit strategy came under attack from both Europe and her own party over the weekend. With each side warning of the risk of no deal, investors are becoming increasingly sensitive to Brexit headlines.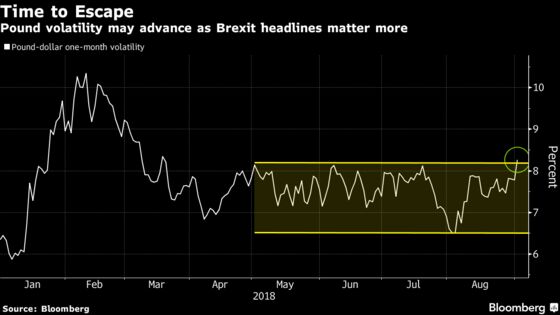 "What is quite hard for markets to work out is how much of this is political noise and how much of it is genuinely moving the probability of no deal," said Mike Amey, a managing director at Pacific Investment Management Co., adding the fund is hedging risks by not having big sterling positions either way.
While market participants still see no deal as unlikely, the approaching endgame is a prospect that pushed a one-month options gauge of swings in the currency up by nearly 50 basis points on Monday to a three-week high above 8 percent. That came after comments last week by European Union Chief Negotiator Michel Barnier sent sterling up by 1 percent before falling back.
The headlines will keep on coming. U.K. Brexit Secretary Dominic Raab admitted that the October deadline for a deal may be pushed back, and there is increasing talk of an extra emergency U.K.-EU summit in November. U.K. lawmakers will return this week from a summer recess and any proposed Brexit deal would have to be voted on before the U.K. leaves the bloc in March.
Key events:

Sept. 4, 2018: Parliament returns from summer recess
Sept. 30-Oct. 3: Conservative party conference
Oct. 17-18: EU summit. Initial deadline for outline of deal on future relationship
Oct. 31: Original deadline for talks to be completed
November: Potential emergency summit, not yet confirmed
Dec. 13-14: EU summit. Seen as fallback option for finalizing deal
March 29, 2019: The U.K. leaves the European Union
Barnier "strictly" opposes May's proposals for the future relationship, he told Frankfurter Allgemeine Sonntagszeitung in an interview on Sunday. The Europeans' interest is to preserve the common market and the U.K. can't simply pick the parts that it wants to participate in, Barnier said.
Prominent members of May's Conservative party members also remain opposed to the Prime Minister's negotiating position and rumors of a leadership challenge have re-emerged ahead of the party's annual conference this month. Former foreign minister Boris Johnson took to the Telegraph to say that May has not tried hard enough with Brexit and the plans were too soft.
"People get bearish ahead of party conference season," says Investec Asset Management Portfolio Manager Russell Silberston, who has a neutral position on the pound and thinks that pricing is "skittish on headlines."
Assuming May survives the conference intact, the clock will be ticking to get agreement on the Irish border, which Barnier said was the main remaining issue that needs a solution. Options gauges of volatility are seen rising.
After that, a likely November EU summit will be the last practical time to hammer out a final agreement and get it ratified by national parliaments of all EU members before March 2019, according to Investec's Silberston.
Allianz Global Investors' U.K. portfolio manager Michael Riddell is opting for out of the money call options to profit from a large unexpected rally in the pound.
"Unexpected comments stating something conclusive have the power to cause far more dramatic moves," said Riddell.
In the event the U.K. gets a deal by year-end, the pound should rally while gilts sell off. Yet most investors see bad news having more of an impact than good news. A no-deal scenario would see a sharp move downwards, while agreeing a deal would only result in a gradual upwards move as details would still have to be worked out, Pimco's Amey said.
Silberston agrees, seeing failure to strike a deal leading to a "quick re-pricing, just as we saw in June 2016." The pound fell more than 8 percent versus the dollar on June 24, 2016, the day of the Brexit vote result.
All of this, plus the likely torturous passage of the Brexit legislation through parliament, adds up to a difficult path for investors. Faced with high levels of uncertainty, many fund managers are staying cautious.
"It's very hard to invest when you have no more insight than anyone else regarding how the negotiation turns out," said Paul Lambert, head of currency and portfolio management at Insight Investment, who is neutral on the pound. "You could guess and you might be right, but it would be little more than a guess."