Going Digital Will Boost Business and Assist ECB, Weidmann Says
(Bloomberg) -- Digital technology can bolster economic growth in the euro area and help the European Central Bank in setting monetary policy, according to Bundesbank President Jens Weidmann.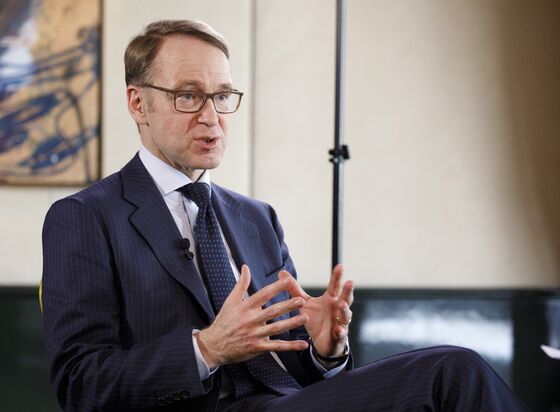 Countering concerns that increased reliance on technical innovations risks damping inflation and may require higher targets for price growth to prevent central banks from becoming over-reliant on non-standard policy, Weidmann -- also a member of the ECB's Governing Council -- argued growth-friendly policies and structural reforms are the better answer to underpin long-term economic prospects.
"There are many starting points at the national but also at the European level," he said in a speech in Freiburg, Germany, on Monday. "We have to use the chances technology offers: with improved education options, a broadening of the digital infrastructure, increased cyber-security and a modernized legal framework. For Europe, it's time to finish the digital domestic market."
Those reforms would catapult the 19-nation euro area onto a higher growth trajectory. With interest rates near record lows, central banks have lost room to respond to economic shocks with adjustments in borrowing costs alone, forcing them to expand their toolkit to unconventional lending and purchase programs to add stimulus.
"A higher growth path would lead to higher interest-rate levels in general and give monetary policy more room for maneuver," Weidmann said. "Therefore I'm convinced that we should continue to aim at an inflation rate of below but close to 2 percent in the medium term, and that we shouldn't allow our monetary-policy credibility to be doubted."