Emerging-Market Fears Prey on Italy's Fragile Euro Bond Market
(Bloomberg) -- When it rains, it pours for Italian bonds. As if investors weren't already spooked enough by the budget plans of the country's populist government, emerging-market turmoil is serving as a further excuse to target a market seen as Europe's weakest link.
Contagion fears have been sparked across riskier markets after the Argentine peso fell to a record low last week and the Turkish lira resumed its slide. That pushed Italy's 10-year yield spread over Germany to close at a five-year high on Friday, a sign that investors are perceiving the risk in the euro-area's third-largest economy as similar to the debt crisis.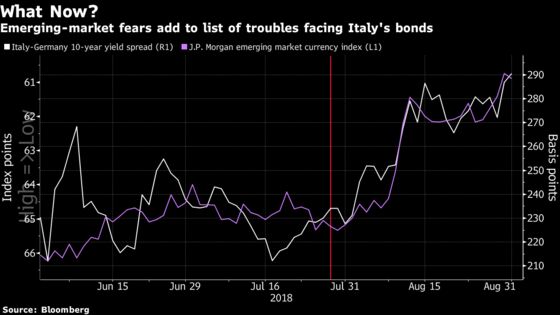 "We are in an environment where the 'weak' are punished," said Arne Lohmann Rasmussen, head of fixed-income research at Danske Bank A/S. "If the emerging-market crisis escalates, we could see a 300-basis-point Italy-Germany yield spread."
Italian benchmark bond yields are now only lower than Greece's in the euro area, with those of Portugal and Spain relatively unperturbed by the spillover from the emerging-market turmoil. Italian investors are awaiting the government's spending plans, which could threaten the European Union's deficit limit of 3 percent of economic output and lead to rating-agency downgrades.