Casino's Woes Pit Holders of Complex Bonds Against Muddy Waters
(Bloomberg) -- Short sellers weren't the only ones sniffing opportunity as bad news about Casino Guichard-Perrachon SA mounted.
UniCredit SpA and Societe Generale SA are among banks that issued around $107 million of structured notes in total last month tied to the embattled French grocer -- the most on record. The supply in August alone more than doubled the outstanding tally of such bonds to $186 million, according to Bloomberg data going back to 2005.
Market players are taking advantage of soaring volatility in the French retailer's shares and mounting credit risk that has sent the price of its default swaps to a record high.
Buyers of the structured notes, which pay coupons as high as 22.9 percent, are walking a fine line. They seek to capitalize on Casino's woes while betting shares won't drop beyond a certain level and that the company won't welch on its debt.
Now, those bets are being tested as the grocer attempts to ward off an attack from short seller Muddy Waters Capital LLC and a ratings cut by Standard & Poor's that takes its debt further into junk territory.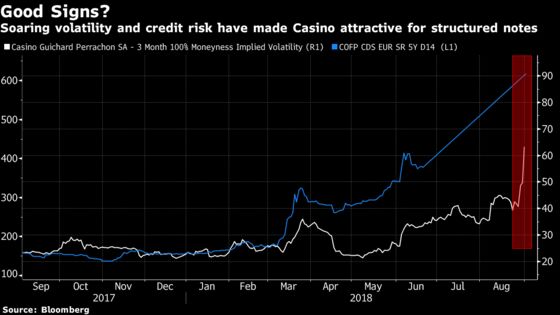 Rallye SA, through which Casino Chief Executive Officer Jean-Charles Naouri controls the retailer, needs to repay at least 670 million euros ($778 million) of bonds in October and 300 million euros in March.
Since credit lines require that it pledges Casino stock as collateral, the more the grocer's shares fall, the less room Rallye has to maneuver.
A Casino spokesman told Bloomberg News it will give investors "some proof in a few weeks" of its commitment to a debt reduction plan financed by asset sales and cash-flow generation.
The grocer may have room to turn its fortunes around.
"Casino is exposed to emerging markets, which is bad," said Georges Gedeon, founder of Antler Capital Partners LLP, a London-based hedge fund. "At the same time, their accounts are a nightmare. But they have decent assets -- and their assets are worth something."
On Monday, the company gave more details about its finances after criticism by Muddy Waters on Friday. It also said in a statement that S&P's action doesn't take into account its asset-disposal plan.
The vast majority of the structured securities are so-called reverse convertibles tied to the company's shares. The notes pay above-market coupons as long as Casino's stock price doesn't breach a certain level.
While the stock has plunged more than 45 percent this year, implied volatility around 2008-era highs makes the product more attractive as it can increase the coupons available.
Banks last month also issued around $1.6 million of credit-linked notes tied to the bonds of the troubled retailer. The largest, a 1 million-euro issuance from Societe Generale, pays an annual coupon of 3.15 percent for three years.
Buying credit-linked notes effectively puts the holder in the position of selling protection against a Casino default. If the company suffers a credit event, holders of the securities typically forgo all, or a portion, of their principal.
The notes are traditionally sold to asset managers who prefer making bets on the credit default swaps, which are the costliest they've ever been, in securitized form.
Banks issue billions of dollars of structured notes annually tied to the shares or credit protection on individual companies.