Brexit Bulletin: What Did You Miss?
(Bloomberg) -- Today in Brexit: Did you zone out of Brexit over the summer? Now's the time to tune back in.
Brexit is back, after a summer of noise about the chance of a no-deal endgame. With November now emerging as the new deadline for the U.K. and the European Union to seal any divorce agreement, the next few weeks will be crucial. A deal is still possible, but U.K. Prime Minister Theresa May will have to postpone the hardest decisions to get it done. Getting the deal through Parliament afterwards remains the main challenge — and there will be some high-stakes drama toward the end of the year.
Here's a roundup of what's changed — and what hasn't — over the summer.
The prime minister went on her summer break having finally set out a Brexit negotiating position that would keep Britain close to the EU's markets but outside its institutions. Pro-Brexit lawmakers — whose votes she needs to approve the final deal — didn't like her Chequers proposal. EU chief negotiator Michel Barnier didn't either. Now even the loyalists are starting to come out against it, with Conservative lawmaker Nick Boles saying Chequers puts Britain on course for "humiliation." The premier may have to depend on opposition lawmakers to get a deal through Parliament — a risky strategy. Rumblings of a possible leadership challenge have returned. On Monday, former Foreign Secretary Boris Johnson was on the front page of the Telegraph saying that May has failed. And 20 Tory lawmakers announced their intention to vote against May's plan.
It was October. Now it's mid-November. "There is some measure of leeway," Brexit Secretary Dominic Raab said last week. An emergency EU summit in November to sign the deal could be on the cards. Remember that Brexit is in two parts: first the divorce agreement to make sure the exit is orderly, and then the future trade deal, which won't be negotiated until after the U.K. leaves. This means some of the trickiest decisions about the future relationship can be postponed until after the split has happened.
When it comes to EU negotiations, May is clear. "There will be no compromises," she wrote on Sunday, "that are not in our national interest." This doesn't rule very much out.
The prime minister regularly trots out language that sounds pro-Brexit — "no deal is better than a bad deal" — but the thing that's become clear during 2018 is that she basically thinks Brexit is a bad idea. That's not such a surprise, as she campaigned against it in 2016. It explains why her goal is to stay as close as she dares to the EU. On her African tour last week she declined two opportunities to say she thought Brexit was a good idea. This also suggests that, whatever she says, she'll try to avoid a "no deal" outcome.
One of the stranger rows of the summer was when Brexiters first demanded the government publish its "no deal" planning, and then complained that the documents were likely to make this outcome look unpleasant. So far, we've had one tranche of the documents, and that's exactly what they do. Britain is warned to prepare for delays, increased costs, more red tape and shortages of drugs and even sperm. All sides think there's a chance this might just be where Britain ends up.
What about a second referendum?
It's definitely not party policy, but the opposition Labour Party is not ruling out a second Brexit referendum. The gradual shift in its approach is making a second plebiscite more likely. The position was set out by Shadow Chancellor John McDonnell on Sunday: "My preference is a general election," he told the BBC. "If she won't go for a general election, we'll keep all options on the table." This will come back up at the Labour Party conference at the end of September. Different anti-Brexit campaign groups are working hard to keep the idea alive. May continues to say she rules out a second referendum, saying it would be a betrayal of voters.
Have you played our Brexit game yet? Chart the various routes to the possible Brexit outcomes, freshly updated.
Brexit "domino" fears resurface in Europe, just when the U.K. needs it least, Ian Wishart reports.
The Plan for Banks | The U.K. government has scaled back ambitions for British banks' access to the EU market after Brexit. It now believes institutions should have a similar relationship with the EU as Japanese ones do. A U.K. paper published on Aug. 20 confirmed the government wants a generous form of "equivalence" on financial services — where the EU recognizes that rules are as strict as its own. It cites the EU's deal with Japan as a precedent.
And Support for the Plan B | Germany's top financial regulator backed U.K. calls for the EU and Britain to agree on a political solution to the threat Brexit poses to trillions of dollars in derivatives and insurance contracts. EU policymakers have so far said they don't see the need for urgent government action.
Time to Compromise? | David Lidington, May's pro-EU deputy, told the EU it must compromise or risk no deal. "I truly feel that we are at a fork in the road," he said in a speech at a conference of business leaders in France last week. There was no sign the EU was moved by the comments, which were in line with similar lines delivered by Foreign Secretary Jeremy Hunt over the summer.
Companies Move | Panasonic Corp. is moving its European headquarters from near London to Amsterdam because of Brexit. Meanwhile, Easyjet is shifting its pilots based in mainland Europe onto Austrian and German licenses to minimize disruption.
New Editor at the Daily Mail | The Daily Mail, a key voice in the debate on the pro-Brexit side, has a new editor, Geordie Greig, who is expected to take a less strident anti-EU tone than his predecessor Paul Dacre.
On the Markets | Pound traders got pretty excited when Barnier said last week that he would offer Britain an unprecedented partnership. Even though he had said those words many times before, the pound rallied above $1.30 to the strongest in three weeks. The next day Barnier said no-deal was still a possibility, and the pound fell. Sterling traded at $1.2930 early on Monday and volatility is expected to increase as investors pay close attention to the headlines.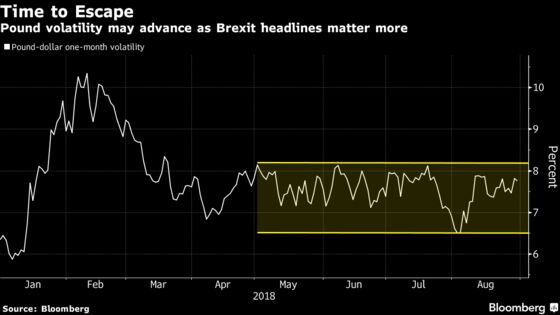 Want to keep up with Brexit?