Pound Volatility Eyes Course North as Brexit Headlines Return
(Bloomberg) -- Volatility in the pound may rise to its highest level since March as the U.K. and the European Union enter the final stage of Brexit talks.
A gauge of swings over one month climbed to its highest in two weeks as comments from EU chief negotiator Michel Barnier on the chances of a Brexit deal moved the currency. As more headlines emerge, implied volatility is likely to rise before a summit of EU leaders on Sept. 20.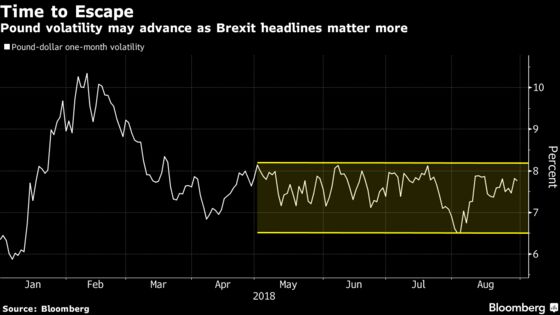 The correlation between the number of Brexit stories in the news and pound volatility inverted in mid-August as a summer lull and Brexit fatigue kept investors sidelined. Yet as the stakes rise, with an original target date to get a deal by the time of another EU leaders' summit starting Oct. 18, investors may opt for pound exposure through options.
One-month pound-dollar volatility traded above 8 percent Thursday to touch a more than two-week high. Should the correlation between news and volatility return, the gauge may rise to levels above 9 percent seen in March.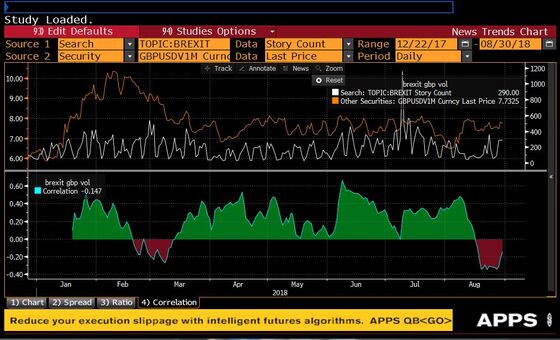 NOTE: Vassilis Karamanis is an FX and rates strategist who writes for Bloomberg. The observations he makes are his own and are not intended as investment advice