Pound Holds Near Four-Week High Even as Barnier Damps Optimism
(Bloomberg) -- The pound held near a four-week high as investors hesitated to take fresh positions on the currency amid a spate of crisscrossing Brexit headlines.
Sterling surged more than 1 percent Wednesday as traders covered short positions after the European Union's Michel Barnier said that the U.K. could be offered an unprecedented partnership. It briefly slipped Thursday after the EU's chief negotiator warned that a no-deal Brexit was still possible, only to recover shortly afterward. Implied volatility on one-month pound-dollar options rose to a two-week high amid alternating waves of bullish and bearish sentiment.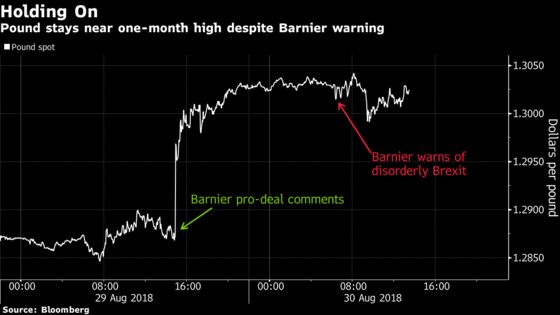 "The language used yesterday is not materially different from that used last week, that to me suggests we are witnessing a market looking for a reason for a short squeeze," said Jeremy Stretch, head of Group-of-10 currency strategy at Canadian Imperial Bank of Commerce.
The pound was little changed at $1.3022, after rising earlier to $1.3043, the highest since Aug. 3. Sterling also held its ground against the euro, after a 1.1 percent rally on Wednesday.
Market positioning has been turning increasingly bearish on the pound as the Brexit deadline approaches with a lack of concrete progress. The latest CFTC data shows leveraged funds and asset managers continued to add to short positions, with the former the most pessimistic since September 2017.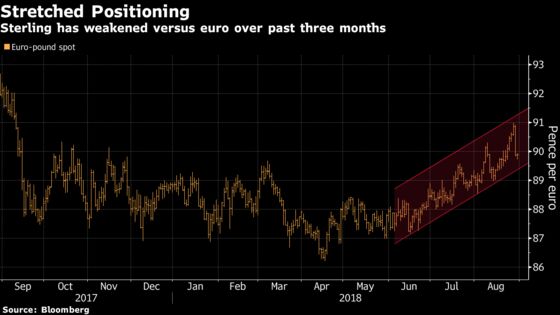 The sharp reaction to Barnier's comments on Wednesday reflected abating fears about a "no deal" Brexit and stretched market short positioning, according to Valentin Marinov, head of Group-of-10 currency strategy at Credit Agricole SA.
With another interest-rate increase by the Bank of England not priced in until the end of next year, the market has been increasingly driven by political headlines rather than data. Brexit Secretary Dominic Raab is due to head back to Brussels for negotiations on Friday, meaning more price swings for the U.K. currency could be on the horizon.
"Really we are all prisoners to the news headlines about Brexit and whether they are interpreted correctly," said Stuart Bennett, head of Group-of-10 currency strategy at Banco Santander.