Turkish Lira Drops as Central Bank Move Fails to Lift Confidence
(Bloomberg) -- Turkey's lira extended its slump to a third day as a central bank move on overnight borrowing limits failed to bolster investor sentiment.
The dollar surged as much as 2 percent against the lira, which led declines among emerging-market currencies. The central bank said on Wednesday it is altering banks' borrowing limits for overnight transactions, which effectively tightens liquidity by ending unrestricted funding it has offered since Aug. 13.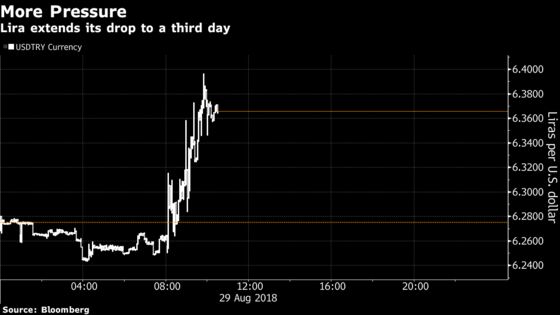 The central bank has announced a series of measures in recent weeks to try to contain a slide of more than 40 percent in the lira this year. Yet investors do not see policy makers' approach to market pressure as a sustainable way to tackle double-digit inflation and a widening current-account deficit.
"It's yet more smoke and mirrors from the central bank," said Nigel Rendell, an analyst at Medley Global Advisors LLC in London. "The change in banks' overnight borrowing limits is aimed at trying to ease pressures on the banking system, rather than tackling Turkey's underlying problem, which remains persistently high inflation."
The lira was trading 1.6 percent lower at 6.3746 per dollar as of 11:36 a.m. in Istanbul. Together with the Argentine peso, it's the worst-performing emerging-market currency this year. The yield on 10-year bonds climbed 19 basis points to 21.95 percent, after touching a record high earlier this month.
Data on Wednesday showed an index of Turkish economic confidence fell to the lowest level since 2009 in August, while the country's trade deficit widened in July from the previous month.
The central bank, which next meets to decide policy on Sept. 13, has got "zero bang for its buck" in Wednesday's move, given the renewed lira selling, Rendell said.
"The downward currency trend will continue until monetary policy is significantly tighter," he said. "If the bank really wants to stop the rout and is serious about tackling ever-higher inflation, it needs to raise interest rates by at least 500 basis points."