Pound Climbs to Three-Week High as Barnier Pledges Unique Deal
(Bloomberg) -- The pound rallied above $1.30 as investors turned more optimistic on the chances of a Brexit deal before the U.K. exits the European Union in March.
The currency climbed to the strongest level in three weeks and gilts tumbled as Michel Barnier, the EU's chief negotiator, said the EU was prepared to offer Britain an unprecedented partnership, different from that with any third country.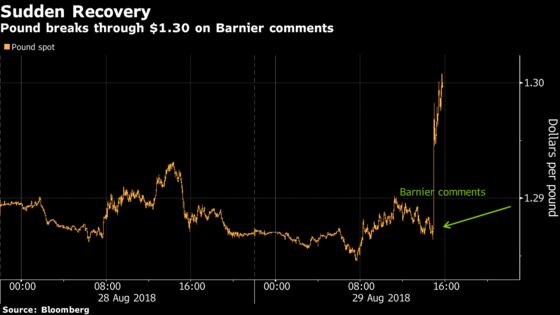 It's "the best he's ever said, even though it's early days," says Manuel Oliveri, a foreign-exchange strategist at Credit Agricole SA. "It could easily go further as the market was very much becoming aligned with a no-deal Brexit. Hence anything positive or anything that dampens such fears triggers position squaring."
The market had increasingly moved to price in the risk that Britain could leave the EU without a deal, leaving sterling headed for its fifth straight monthly loss. While Barnier used the same pledge of an unprecedented deal earlier in August, the tone was seen by investors as more positive after British politicians have increasingly been talking of the prospects of no deal.
Sterling gained as much as 1.1 percent to $1.3008, the strongest level since Aug. 6, with buying spurred on a break of $1.2950, according to a Europe-based trader. The yield on U.K. 10-year government bonds rose five basis points to 1.51 percent.
Following Barnier's comments, markets also moved to bet on a slightly faster pace of tightening from the Bank of England, fully pricing in an interest-rate rise in November 2019. BOE Governor Mark Carney has previously said that the central bank's future path will be dependent on the outcome of Brexit.
With talks at a virtual impasse for weeks, the two sides are rushing to try to reach a deal on the terms of the U.K.'s withdrawal by October, although Brexit Secretary Dominic Raab said Tuesday there was some flexibility on that deadline. Raab is due to head back to Brussels for negotiations on Friday.
"Traders have become very concerned about negotiations in recent months, particularly the increased talk of no deal Brexit and these comments will at least start to alleviate those concerns," said OANDA Europe Ltd. analyst Craig Erlam. "It does suggest that more constructive conversations can happen to find a workable solution that suits both sides, should one exist."