Former FIFA Boss Sentenced to Nine Years in U.S. Prison
(Bloomberg) -- To his lawyers, he was a man who did hundreds of good deeds, including paying for his chauffeur's knee surgery. But U.S. prosecutors said former South American soccer boss Juan Angel Napout sometimes moved illicit cash by dispatching his personal driver on 15-hour trips from Buenos Aires to Asuncion, Paraguay.
Napout, 60, a Paraguayan who was president of CONMEBOL, the governing body for South America's soccer, as well as a vice president of FIFA, international soccer's governing association, was sentenced to nine years in prison on Wednesday after being convicted by a U.S. jury of getting $3.4 million in bribes and soliciting almost $25 million.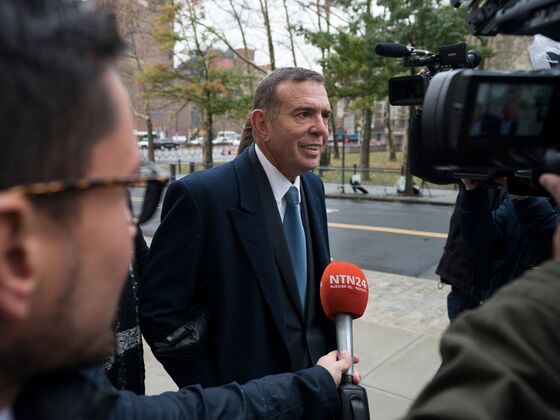 In announcing the sentence in Brooklyn, New York, federal court, U.S. District Judge Pamela Chen said she had a hard time reconciling the portrait of Napout painted by his lawyers, family and friends, as a man of generosity and good character with the evidence she'd seen at trial.
"Napout had a public face, one that is reflected in all the letters I've seen," Chen said. "But then there was this hidden character he had, this hidden life."
Prosecutors sought a sentence of 20 years.
"I know America is a compassionate country," Napout told the judge before the sentence was handed down. "I beg you for your mercy."
Napout portrayed himself publicly as an agent of reform who tried to change CONMEBOL, which was plagued by years of corruption. But prosecutors argued that as soon as he joined the Paraguayan soccer association in 2010, Napout began taking bribes and collected perks like a $40,000 seaside vacation condo and more than $10,000 worth of tickets to a Paul McCartney concert.
"He entered sports to make money when he had more than enough," prosecutor Kristin Mace said. "Napout led by example at CONMEBOL and FIFA; he led colleagues and subordinates to believe that bribe-taking was common practice."
Napout was convicted in December of wire fraud and racketeering conspiracy by a federal jury in Brooklyn after a seven-week trial. He was cleared of money-laundering charges.
His lawyers argued the evidence in his trial was just a small snapshot of his life. While they acknowledged that he was born into a wealthy family -- one friend described it as a "golden cradle" -- they said Napout spent his life helping those in need.
"One act cannot erase a lifetime of good work," Napout's lawyer Sylvia Pinera-Vazquez said.
The five-hour sentencing hearing included an appeal from Napout's wife, Karin Forster, who pleaded, "Please, your honor, give mercy and impose a sentence that allows him to return," to Paraguay.