Dick's Suffers as Under Armour Goes Free Agent
(Bloomberg Opinion) -- Unfortunately for Dick's Sporting Goods Inc., it looks like one of its star players is scoring points for another team.
As the big-box retailer reported lackluster second-quarter earnings on Wednesday, it said that it "experienced continued significant declines in Under Armour sales as a result of their decision to expand distribution." That contributed to its decline in comparable sales, which were down 1.9 percent from a year earlier, or 4 percent adjusting for a calendar shift. It also saw continued challenges in its hunting business, which was thrust into the headlines earlier this year when Dick's decided to stop selling assault-style rifles in the wake of the school shooting in Parkland, Florida.
When it comes to the drop in Under Armour, we have a pretty good idea of where people were buying that brand-name gear if they weren't purchasing it at Dick's. Just last week, Kohl's Corp., which only began selling Under Armour paraphernalia in 2017, said the athletic apparel brand was again a hot seller in the quarter. In fact, on a call with investors, Kohl's CEO Michelle Gass said Under Armour "delivered very strong growth" and said the label's comparable sales growth is actually accelerating.
This is an especially clear-cut example of an important dynamic shaping the retail industry right now: Marquee brands — which can be powerful traffic magnets —  are rethinking which stores to ally themselves with as malls struggle to draw visitors and e-commerce becomes more important.
As Dick's results demonstrate, retailers that don't adapt are going to get burned.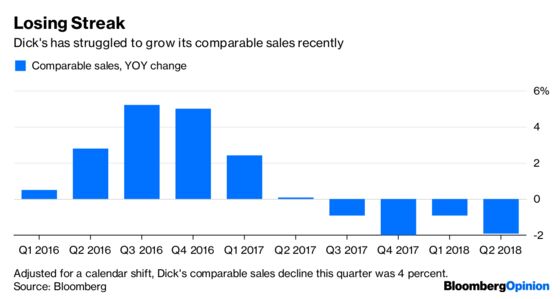 Just as Under Armour has added this new wholesale relationships and is opening more of its own brick-and-mortar stores, Nike Inc. is on a somewhat similar journey. It plans to draw a greater share of its sales from its own stores and website, and has said it plans to derive more of its North America sales from  "differentiated retailers." 
And it's not only athletic apparel brands that are recalibrating their distribution. Tapestry Inc.'s Coach brand has pulled back from certain department-store locations and now is taking its Kate Spade label on a similar path. Ralph Lauren Corp. and Michael Kors Holdings Ltd. have also retreated somewhat from department stores.
As brands move to protect themselves this way, unexceptional retailers like Dick's have to work harder to give shoppers a reason to show up. When there are plenty of other places to get Under Armour gear, you have to make it worthwhile to do it at Dick's, whether that's with exclusive items or a particularly enticing in-store display or website presentation.  
I think the partnership between Nordstrom Inc. and Nike is a good example of how this can work well. The Nordstrom x Nike shop on the department store's website feels elevated and distinct from how the brand would be presented at Dick's or even at specialists like Foot Locker Inc.
This isn't necessarily a disaster scenario for Dick's. It has long stated that it intends to significantly grow its private label business, which offers the promise of higher gross margins and ensures it has something special that shoppers can't get anywhere else. Its Calia by Carrie Underwood private brand has done well, and that offers reason to believe it might be able to replicate that success.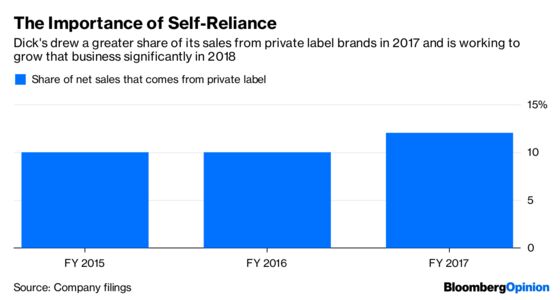 But, still, all multi-brand retailers should take a lesson from Dick's losing its grip on Under Armour — and take it as a warning, too. 
This column does not necessarily reflect the opinion of the editorial board or Bloomberg LP and its owners.
Sarah Halzack is a Bloomberg Opinion columnist covering the consumer and retail industries. She was previously a national retail reporter for the Washington Post.