Watered-Down Whiskey Is Lesson in Futility
(Bloomberg Opinion) -- Brown-Forman Corp.'s earnings would have been as smooth as Tennessee whiskey if not for President Donald Trump's trade war.
The maker of Jack Daniel's and Woodford Reserve reported quarterly earnings Wednesday that bested analysts' estimates, but it also lowered its fiscal 2019 guidance. The culprit isn't weakening demand for the hard stuff — Brown-Forman held steady on its call for as much as 7 percent sales growth this year. Rather, what's tripping it up are tariffs and foreign-exchange headwinds that are beyond the company's control. Brown-Forman gets more than a quarter of its revenue from European markets, leaving it particularly exposed to the 25 percent levies on U.S. whiskey set in retaliation for Trump's metals tariffs.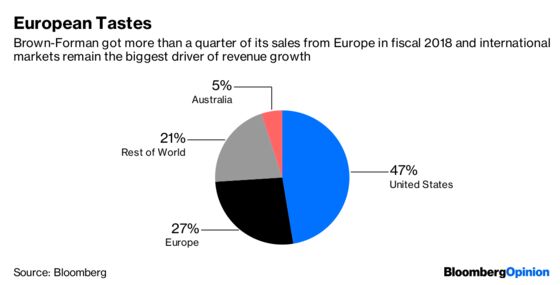 It's hardly the only company to be caught in the crossfire, but the extent to which the trade war is holding Brown-Forman back is notable. It's a microcosm of a bigger trend: the U.S. economy expanded at a slightly faster pace in the second quarter than previously estimated, but economists anticipate growth will cool and settle at only about 2.9 percent for the full year, in part because of the tariffs. There's something devastatingly futile about that. 
Analysts had been bracing for a Brown-Forman guidance cut, but underestimated the pinch from the tariffs. Even so, the shares were trading up slightly on Wednesday. That likely reflects a belief that the tariffs are a transitory issue, dampening what is otherwise a strong growth story. Notably, international markets continued to be the biggest contributor to Brown-Forman's revenue gains, with underlying sales in Germany and the U.K. up more than 30 percent. The growth in Europe partly reflected a stockpiling of inventory ahead of tariffs, but it's still a positive sign that demand will hold up in the face of price increases Brown-Forman plans to push through there to offset the tariffs.
"Hold up" and "offset" are the key words, though, because all of the good news for Brown-Forman is interpreted through the lens of tariffs and how well the company can weather them. So there's enough in this latest earnings report to keep Brown-Forman's stock treading water, but that's about all it's going to do. Even after Wednesday's gain, the shares are still down more than 10 percent from their May high and are bumping up against analysts' tariff-adjusted price target of $53. To move higher in the near term, the tariffs likely have to be removed.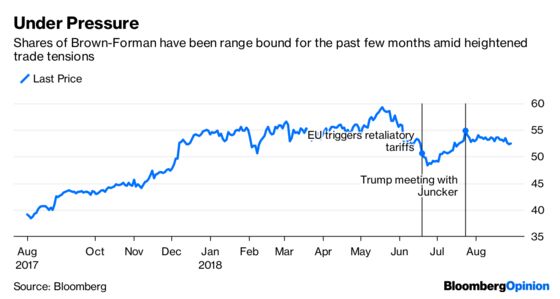 Despite the pomp and circumstance around European Commission President Jean-Claude Juncker's visit with Trump last month, the resulting agreement was essentially just a ceasefire and didn't revoke already announced tariffs. Brown-Forman said Wednesday that it expects the tariffs to remain in place for its full fiscal year, which runs until the end of April.  
Basically, Brown-Forman needs a Kansas City Southern moment. The railroad jumped 4.7 percent on Monday as the U.S. reached a preliminary agreement with Mexico on trade conditions for automobiles.
Like Brown-Forman, Kansas City Southern's underlying business is doing well, as the tight trucking market pushes more volume toward railroads. But its top growth opportunity stems from increased foreign investment in Mexico, with about 30 percent of sales coming from cross-border trade, according to Bloomberg Intelligence. Removing the trade uncertainty should lift Kansas City Southern's valuation back toward the higher multiple it enjoyed pre-Trump, notes Cowen analyst Jason Seidl.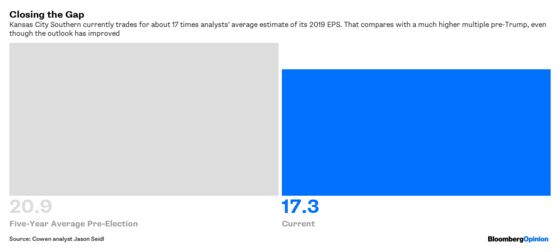 Put another way, if not for the trade war, there's little justification for Kansas City Southern and Brown-Forman's current depressed stock prices.  I just keep coming back to how unnecessary this all is. It's not like the changes agreed to by Mexico and the U.S. are that radical; the whole thing seems to have been essentially a branding exercise. With that as a guide, whatever deal Trump ultimately strikes with Europe seems set to be similarly symbolic. But how many millions in profits will Brown-Forman and others have sacrificed before we get there?
This column does not necessarily reflect the opinion of the editorial board or Bloomberg LP and its owners.
Brooke Sutherland is a Bloomberg Opinion columnist covering deals and industrial companies. She previously wrote an M&A column for Bloomberg News.