Bank of Thailand Governor Says No 'Imminent' Need to Hike Rates
(Bloomberg) -- Thailand's central bank is under no immediate pressure to raise interest rates like emerging-market peers elsewhere given the nation's solid buffers and relatively strong currency, Governor Veerathai Santiprabhob said.
The Bank of Thailand is monitoring economic developments closely, including risks to the growth outlook from trade protectionism, Veerathai said in an interview with Bloomberg Television's Haslinda Amin on Wednesday in Bangkok. While inflation returned to the 1 percent to 4 percent target range, it remains subdued, he said.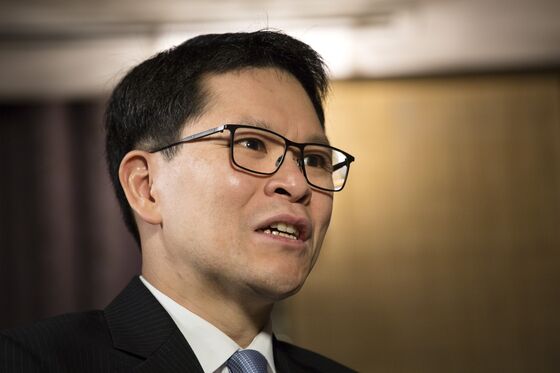 "With our strong external position, the need for Thailand to increase the policy rate is not as imminent as other emerging markets," he said. "We have strong enough buffers so we are not under pressure as other emerging markets that might be vulnerable to the global financial conditions. So we can utilize our monetary policy autonomy to meet the needs of the Thai economy."
Veerathai struck a more dovish tone than last week, when he said the central bank is waiting for the right time to consider an interest-rate hike, prompting some analysts to bring forward their calls for a policy move to later this year. The Bank of Thailand has kept its benchmark rate at 1.5 percent, near a record low, since 2015, in contrast to counterparts in Indonesia, the Philippines and others, which have tightened policy this year in the face of currency turmoil.
Thailand's $203 billion in foreign-exchange reserves, and a current-account surplus of about 8 percent of gross domestic product, have sheltered it from the worst of the emerging-market rout that's hit its neighbors. The baht has advanced 1.7 percent against the dollar this month, the best performer among 22 emerging currencies tracked by Bloomberg.
The governor's comments on Wednesday accelerated declines in the baht, with the currency dropping 0.5 percent to 32.725 per dollar as of 3:20 p.m. in Bangkok.
Some investors consider the baht to be an emerging-market safe haven and the currency has appreciated ahead of its peers, a combination "we are not quite comfortable with," Veerathai said.
"The Bank of Thailand will probably stay on hold until at least the first half of 2019 as Thailand doesn't see inflationary pressure and the relative strength of the baht is making it harder to raise rates," said Toru Nishihama, an emerging-market economist at Dai-ichi Life Research Institute Inc. in Tokyo
After the interview, Veerathai said in a speech at a conference the monetary policy committee can take a longer view and consider policy space when it's confident economic growth is near potential and that inflation will stay in the target range.
Thai officials in recent weeks started to lay the groundwork for a possible rate hike given solid growth prospects. Kobsak Pootrakool, who previously worked at the central bank and is now minister in the premier's office, said in an interview Tuesday that a rate increase may come at the end of the year or in 2019.
The economy grew 4.6 percent in the second quarter from a year ago after expanding at a five-year high of 4.9 percent in the previous three months. Exports of goods and services are equivalent to about two-thirds of GDP, according to World Bank data.