Argentine Bond Risk Soars With Investors Losing Faith in Macri Era
(Bloomberg) -- Mauricio Macri's presidency was meant to lead Argentina out of a dismal period of debt defaults, currency controls and recession. Markets show investors are losing faith in the new dawn for South America's second-largest economy.
Argentina's yield spread over Treasuries -- the extra cost it pays to borrow in the bond market compared with the U.S. -- has climbed this month to the highest since December 2014. The spread surpassed Ecuador's, which has the dubious distinction of having the second-most defaults in the world since 1800, for the first time since May 2015.
Meanwhile, the peso has sunk 41 percent this year to a record low, vying with Turkey's lira for the worst performance in emerging markets. The Treasury Ministry forecast on Monday that Argentina will suffer its second recession in three years amid stubbornly high inflation. And on Wednesday, Macri asked the International Monetary Fund to accelerate payments from the $50 billion credit line granted in June to ease the nation's financial crisis.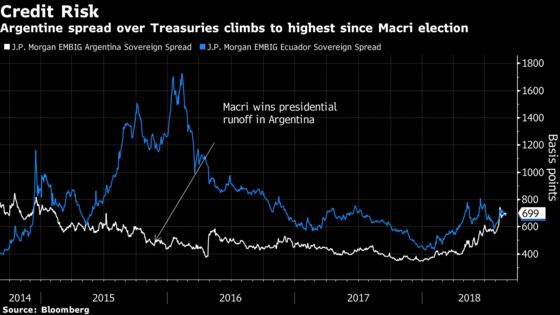 An early release of funds from the IMF could help to stabilize Argentine assets, according to Frances Hudson, a global strategist in Edinburgh at Aberdeen Standard Investments.
"Otherwise, it's edging closer to a crisis in a region that seems vulnerable and volatile on a number of fronts," she said.
While analysts from Moody's Investors Service to the Institute of International Finance have flagged Argentina as among the most fragile developing nations amid dollar appreciation and rising interest rates, some investors see the recent turmoil as a chance to scoop up the nation's bonds on the cheap.
"Front-loading of the IMF payments is very good news as it should help address investors' concerns that they might default next year if market conditions don't improve," said Delphine Arrighi, a portfolio manager at Old Mutual Global Investors in London. "Argentine dollar bonds are now totally mispriced and do offer value versus Angola and other credits."