Three-Quarters of Companies Aren't Diving Into Blockchain
(Bloomberg) -- Need more evidence that blockchain isn't the cure-all for Corporate America? Well, a new report from PwC says adoption of the technology is stalling.
While many companies are researching or tinkering with the distributed-ledger technology, only 15 percent of them have a live project and only 10 percent are piloting blockchain's use, according to PricewaterhouseCooper's survey of 600 global executives.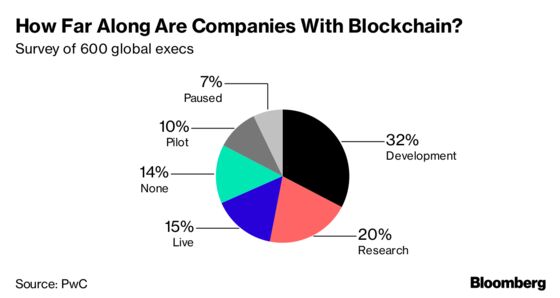 Costs of replacing and integrating with legacy infrastructure are to blame in large part, Grainne McNamara, a principal at PwC, said in a phone interview. Many organizations are also having a hard time proving that the technology is better than what they already have and offers a good return on investment, she said.
"It's a little bit stunning how stagnant it is," McNamara said. "A lot of people took a few steps and are pausing before the bridge. They might be having a hard time articulating the ROI."