Uganda Charges Pop Star With Treason as Police Block Opposition
(Bloomberg) -- A Ugandan court charged a musician-turned-politician who's become a lightning rod for criticism of President Yoweri Museveni's three-decade rule with treason.
Museveni is facing growing protests over the authorities' handling of Robert Kyagulanyi's case. The 36-year-old pop star, known by his stage name Bobi Wine, and other opposition politicians were arrested last week after supporters of a candidate they backed in a by-election allegedly threw stones at the president's convoy.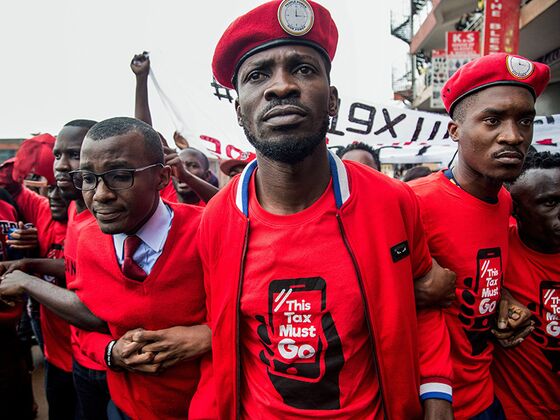 The Chief Magistrates Court in the northern Ugandan town of Gulu charged Kyagulanyi after a military court dropped its case against him. Kyagulanyi's lawyers alleged that the pop star was tortured after being detained by members of an elite force that guards the president on Aug. 14.
The particulars of the charges are that Kyagulanyi "with intent to do harm to the person of the president of Uganda unlawfully aimed and threw stones, thereby beating and smashing the rear windscreen of the presidential car," Nicholas Opiyo, a lawyer for Kyagulanyi, cited the chief magistrate as saying.
Opposition leader Kizza Besigye said on his Twitter account that police barricaded his home near the capital, Kampala, to block him from attending the court session in the northern town of Gulu. They also surrounded the home of Allan Ssewanyana, a member of parliament, broadcaster NTV Uganda reported.
Protests demanding Kyagulanyi's release have erupted in parts of Kampala, the capital, and in the towns of Mukono, Mityana and Jinja. One person was killed when the military shot into a minibus taxi in Mityana, and another was killed and more than 100 people were arrested during the demonstrations in Kampala, the Daily Monitor newspaper reported.