U.K. Net Immigration Declines as EU Workers Stay Away
(Bloomberg) -- Net migration from the European Union to the U.K. slipped to its lowest level since 2012 as the number of nationals from the bloc working in the country fell the most on record, the Office for National Statistics said Thursday.
Around 90,000 more EU citizens came to the U.K. than left in the year ending March 2018, the ONS said in a report, with fewer arriving in Britain for work. Much of the drop comes from people from western European countries coming to the U.K. for a definite job.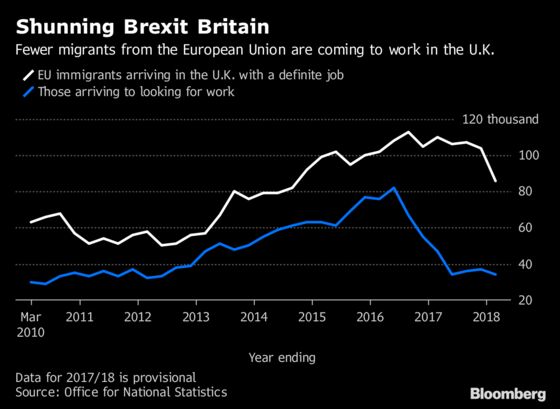 The figures show that the vote to leave the EU in 2016 is already crimping immigration, even before the U.K. formally exits the bloc. That may delight Brexit supporters, but appall opponents, who say the drying up of foreign workers risks damaging the economy. Many businesses and public services including hospitals are already complaining of labor shortages.
"Severely reducing the number of EU workers coming to the U.K. will make British firms less competitive which will dampen growth and limit national prosperity for us all," said Tom Hadley, director of policy at the Recruitment and Employment Confederation. "For our jobs market to thrive, U.K. employers need a comprehensive mobility and migration deal with the EU post-Brexit."
From April to June this year, there were 2.28 million EU nationals working in the U.K., the ONS said, an 86,000-person drop from a year earlier and the largest fall since records began in 1997. The number of EU citizens coming to the U.K. looking for work fell by more than a half between 2016 and 2017, the ONS said, and the decline is continuing in citizens from the eight countries in eastern Europe that joined the bloc in 2004.
Migrants are being deterred by a weakened pound, which makes their earnings in the U.K. worth less when repatriated, and the prospect of migration curbs once Britain leaves the EU next year.
The figures show that the Brexit vote has damaged the U.K.'s labor supply, according to JPMorgan economist Allan Monks. The effect of the vote on immigration is one reason why potential growth has slipped to 1.5 percent, according to the Bank of England. That means output can't expand as quickly as it could without generating price pressure, a key reason why the central bank raised interest rates earlier this month for only the second time since the financial crisis.
In all, around 270,000 more people are coming to the U.K. than departing, so net migration is continuing to add to the population, albeit at a reduced pace.