How Australian Political Turmoil Is Impacting Markets Down Under
(Bloomberg) -- Investors, like voters, have seen this all before. Yet another Australian leadership crisis.
That's meant markets from bonds to stocks have by and large shown resilience ahead of calls Thursday for another vote to choose a successor to Prime Minister Malcolm Turnbull. They figure any replacement to the former Goldman Sachs banker would not cause a substantial shift in policy as the central bank keeps borrowing costs at a record low and companies keep churning out robust profit growth.
That wasn't the case in the currency market where sentiment soured as the political crisis dragged on. The Australian dollar fell as much as 0.8 percent and was down 0.7 percent to 72.95 U.S. cents as of 12 p.m. in Sydney, the steepest drop among Group-of-10 currencies that were all down against the greenback. While the S&P/ASX 200 Index slipped 0.2 percent and volumes were almost double the average, it's only down 1.3 percent this week after hitting a 10-year high on Monday.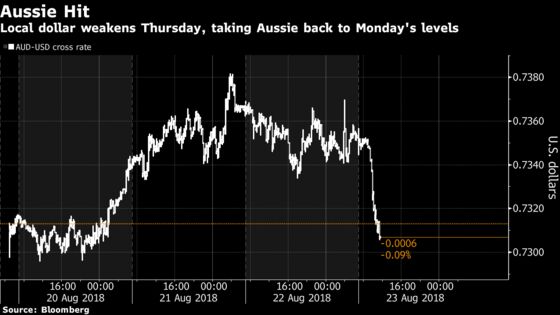 These charts show how measures of market stress are performing and how one key sector of the stock market has been hit. Even after Thursday's slide in the Aussie, the currency remains relatively stable this week and one-week implied volatility indicated traders don't expect a surge in fluctuations over the coming week.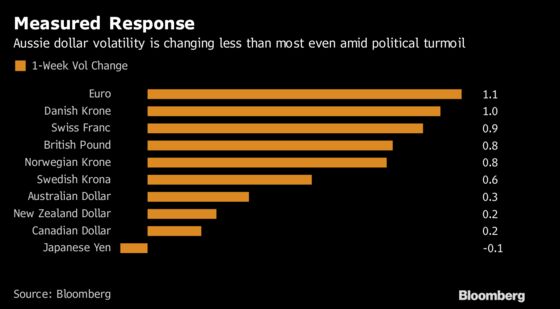 Equity investors showed little sign of concern as the focus on a strong earnings season highlights the ability of companies to keep expanding profits. The S&P/ASX Volatility Index ended Wednesday at 12.3, remaining below the average during 2018.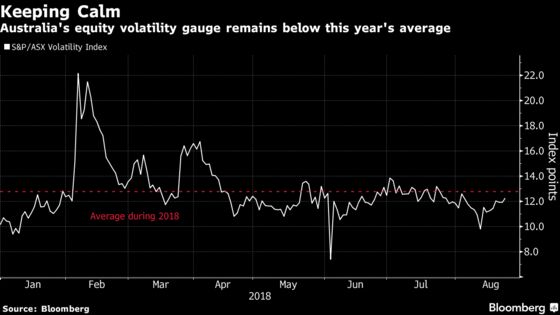 "There's a lot of frustration," said James Audiss, a Sydney-based senior wealth manager at Shaw & Partners Ltd. "It shouldn't really affect economic fundamentals and we're in the middle of earnings season so things should be okay, but we've now got this heightened political risk and the instability doesn't help overseas investors."
Banks, one sector of the economy that may be impacted in the event of a switch to leadership under the Labour party, are underperforming this week.