Best Buy's Key Suppliers' Success May Signal a Revenue Beat
(Bloomberg) -- Best Buy Co. may report second-quarter revenue growth that tops the average analyst estimate of 3.7 percent, or $9.27 billion, next week after key suppliers as well as competitor Walmart Inc. recorded an increase in quarterly computer, electronics and television sales.
On August 16, Walmart said its second-quarter "electronics comp sales were the strongest in 4 years due primarily to an elevated assortment in TV's, audio, wearables and gaming." Best Buy shares have gained 6.0 percent since Walmart reported earnings through yesterday's close. In the last four weeks, the average analyst estimate for Best Buy's second-quarter revenue has increased by $12.1 million.
Personal computer supplier Lenovo Group Ltd. reported its first-quarter revenue rose 19 percent, beating estimates by 6.7 percent, on August 15. IDC data shows retail PC sales rose 14.5 percent in the second quarter, while PC shipments growth of 2.7 percent was at its highest rate in over six years, according to preliminary IDC results. Computing and mobile phones is Best Buy's largest segment which represented 46 percent of the retailer's first-quarter total revenue.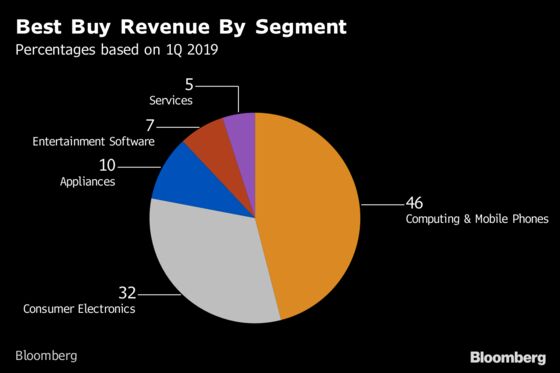 Samsung Electronics Co., one of Best Buy's largest suppliers, according to Bloomberg Supply Chain data, reported a 7.0 percent sequential gain in its second-quarter consumer electronics business. During the earnings conference call on July 30, Senior Vice President of Investor Relations Robert Yi said, "For the CE division, earnings in the TV business improved year-over-year and quarter-over-quarter, with a major global sporting event boosting sales of premium products such as QLED TV."
On July 31, Sony Corp., another TV supplier to Best Buy, reported a 6.0 percent boost in its home entertainment and sound segment sales in the first quarter, citing increased units sales of televisions and headphones. On July 26, LG Electronics Inc. attributed its 4.0 percent growth in second-quarter home entertainment sales to "strong sales of premium TV such as LG OLED TVs". Consumer electronics accounted for 32 percent of Best Buy's total revenue in the first quarter.