U.K. Services Firms Feel the Squeeze as Retailer Profits Slide
(Bloomberg) -- The U.K.'s dominant services industries saw profits slide to the lowest level since 2013 in the first quarter as beleaguered retailers struggled, according to the Office for National Statistics.
Services firms, which account for almost 80 percent of the economy, experienced a slump in their net rate of return in the first three months of the year. Calculated as the economic gain shown as a percentage of the capital used in production, the drop coincides with a tough time for shops. High street firms including Toys 'R' Us U.K., Maplin Electronics and Poundland fell into administration earlier this year.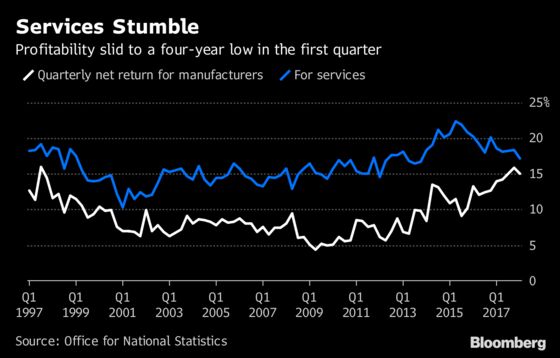 While Britain's manufacturers also had a decline in the rate of returns, they elevated after a six month climb. Exports have been boosted by the depreciation of the pound since the Brexit vote even amid concern about global trade tension and uncertainty surrounding the nation's future trading relationship with the European Union, the ONS said, citing IHS Markit data.
The U.K. economy slowed at the start of the year, posting quarterly growth of just 0.2 percent as snow blighted activity. A pickup in the second quarter has proved mixed, with services at a standstill in June and exports dropping.
The net rate of return on capital employed in the first quarter stood at 17.2 percent for the services sector, down from a revised 18.4 percent in the previous three months, and at 15 percent for the manufacturers, the ONS said.