Target Answers Walmart With a Big Win of Its Own
(Bloomberg Opinion) -- With its blistering pace of comparable sales growth in the second quarter, Walmart Inc. threw down the retail gauntlet when it reported earnings last week.
On Wednesday, Target Corp. answered with some impressive results of its own.
The big-box retailer reported that comparable sales increased 6.5 percent in the second quarter over a year earlier, its biggest growth on this measure in 13 years. Its digital sales were up 41 percent over a year earlier, and the performance overall led the company to bump up its adjusted earnings guidance for the full year.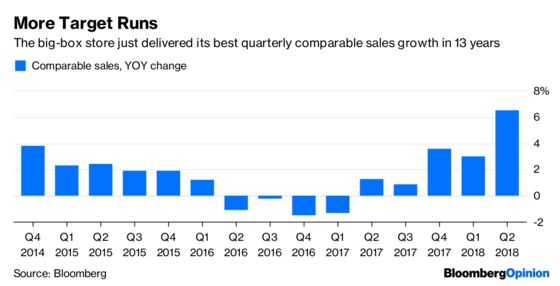 As we get deeper into retail earnings season and see so many chains reporting good results, it is increasingly apparent that the sector overall is benefiting from a tide of consumer optimism.
But I don't think it's fair to pin Target's blockbuster numbers on the macro environment alone. After all, consumer confidence was in the same ballpark a year ago.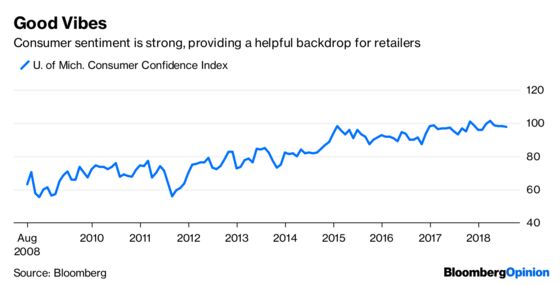 Target's strong quarter is also the latest evidence that the Minneapolis-based retailer has made some smart choices in its bid to differentiate itself in the era of Amazon.com Inc.
For one, the retailer is in the early innings of an extensive store remodeling effort that is set to reach more than 1,000 of its locations by 2020. Target said Wednesday that it's seeing an incremental lift in sales of 2 percent to 4 percent at stores that have been spiffed up.
I visited one of its revamped locations in Virginia earlier this summer, and I could see why the changes are drawing additional store traffic. The lower sight lines make it easier to find your way around, and your eye ends up being drawn to displays all the way across store. The beauty department is outfitted with fixtures that give it more Sephora-like sleekness. Music is piped in, a new addition for a chain that previously let your fellow customers' small talk serve as your shopping soundtrack. These are the kinds of elements that give a store that more inviting, "Tar-zhay" vibe, and give you an added reason to go there instead of one its competitors.
Target also continued to benefit from its strong lineup of private home and apparel brands, which helped it gain market share in these important merchandise categories in the quarter. Target is clearly doing better at giving such collections a strong point of view than either Walmart or Amazon. CEO Brian Cornell is right to continue to roll out more of them to set his chain apart.
Meanwhile, it is hustling to provide more choices for online shoppers. The retailer said Wednesday it is now offering same-day delivery from more than 1,100 stores in 160 markets, and its service that allows you to drive up to a store and receive an online order in your car is now available at more than 800 locations.
For the first time in years, both of America's big-box giants appear to be firing on all cylinders. That puts strong pressure on everyone from dollar stores to wholesale clubs to department stores to step up their game. 
This column does not necessarily reflect the opinion of the editorial board or Bloomberg LP and its owners.
Sarah Halzack is a Bloomberg Opinion columnist covering the consumer and retail industries. She was previously a national retail reporter for the Washington Post.