Optimism Underpins Bund Bulls, But Little Else Supports Them
(Bloomberg) -- Bund bulls may need a miracle if yields are to set new lows for the year.
It may require the unlikely event of the European Central Bank pulling back on plans to end stimulus measures to give further impetus to German 10-year yields hovering close to the lowest level in three months. That's the view of Carsten Klude, chief economist at M.M. Warburg. Bunds rallied last week as turmoil in Turkey prompted investors to seek the euro region's benchmark sovereign securities.
Economic weakness across emerging markets, combined with persistently disappointing euro-area data, might provide the catalyst required to push bund yields below 0.3 percent, according to Klude.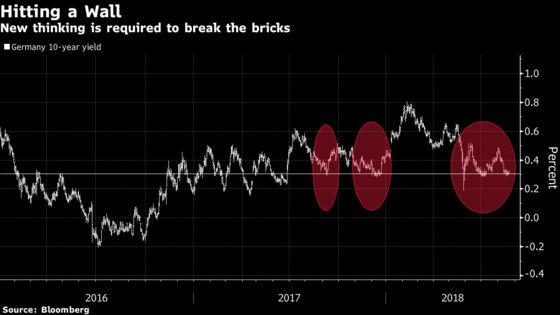 ECB President Mario Draghi said last month that the central bank plans to rein in its stimulus measures, even as global uncertainties were "prominent." The ECB's Governing Council "anticipates" slowing its asset-purchase program in October and capping its holdings at the end of the year.
"In order to get 10-year Bund yields below 0.30 percent, investors must get the impression that the ECB will not implement its monetary policy change," Warburg's Klude said. "If the economy does not gain momentum, Bund yields should continue to decrease."
While Klude said that this is not his baseline scenario, he noted that additional support for declining yields may come from a slowdown in consumer prices. Annual inflation rates in both the euro area and the U.S. may have already peaked, he said.
"Should the U.S. Federal Reserve also give the impression that it is sticking to its current monetary policy, so that the Fed fund target zone will be raised by another 125 basis points by the end of 2019, the Treasury-Bund spread could increase above 260 basis points," Klude said.
Germany's 10-year Bund yielded 0.33 percent in London Wednesday. That left the yield difference versus Treasuries at around 250 basis points. The spread touched 259 basis points on May 28, the widest on record, according to closing-price data compiled by Bloomberg.