Mexican Peso Rally Shows Traders Are Betting a Nafta Deal Is Near
(Bloomberg) -- Traders are taking an optimistic view on Mexico's peso amid conflicting reports about the outlook for trade talks with the U.S.
The currency strengthened as much as 1.1 percent Wednesday as investors bet on a positive resolution to discussions over a revamped North American Free Trade Agreement. Bloomberg News reported that the U.S. and Mexico are moving closer to a deal despite key sticking points in negotiations, overshadowing comments from a U.S. Trade Representative official who said that major Nafta issues remain and cautious signals from Mexico's incoming Nafta negotiator, who also sought to walk back expectations.
"The USTR may have denied a deal is imminent, but there is rarely smoke without fire and I think it's clear that a deal can be struck," said Christian Lawrence, a currency analyst at Rabobank in New York. "It looks like there is some progress."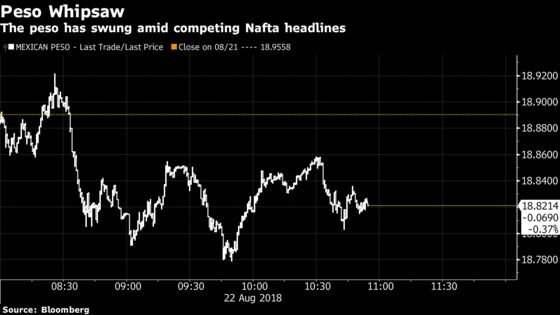 Nafta headlines have buffeted the currency since Donald Trump took office, but positive news along with a more conciliatory attitude toward the business community from incoming Mexican president Andres Manuel Lopez Obrador have helped send the peso to a world-beating rally this year.
The peso was volatile Wednesday as the contradicting news reports came out, but was 0.8 percent stronger at 18.7991 per dollar as of 2:00 p.m. in New York.
"Markets are hesitant to commit firmly to headlines until there is an actual formal deal announced," said Erik Nelson, a strategist for Wells Fargo in New York. However, "there is potential for a larger peso rally if a deal is in fact reached in the near term."
While the peso climbed, the Canadian dollar barely budged. The currency edged 0.2 percent higher on Wednesday, missing out on the market exuberance as traders noted that Canada is still excluded from talks.
"Canadian officials not participating in the current round of Nafta negotiations and repeated statements by President Trump about potentially striking a bilateral deal with Mexico have given the market reason for pause," Credit Suisse strategist Alvise Marino wrote in a note.
A bilateral deal between the U.S. and Mexico -- Canada isn't participating in the current round of talks -- will probably be a precursor to a broader Nafta agreement, according to Frances Hudson, an Edinburgh-based global strategist at Aberdeen Standard Investments, which oversees more than $770 billion of assets. She said that's a positive for Mexico's peso as it would encourage U.S. investment and reduce geopolitical uncertainties.
It's a stark turnaround from the days after Trump's election and inauguration, when the peso sunk to record lows on concern the countries' relationship would suffer.
"I'm not sure what the new Nafta deal looks like, but the fact that Nafta is here is clearly unambiguously a win for Mexico relative to what people feared when Trump first took office," said Jan Dehn, the head of research at Ashmore Group PLC in London.