Geely Stays Ahead, Just, as China's Car Market Falters
(Bloomberg Opinion) -- China, the world's largest car market, is central to big automakers' strategies. Now the market is slowing, and competitive pressures are mounting: Think of it as a superhighway being forced into a single lane.
After months of booming sales that beat expectations and compelled analysts to raise targets, volume growth is dwindling and price erosion is setting in. The outlook for the nation's biggest homegrown automaker, Geely Automobile Holdings Ltd. – which shares a parent with Swedish carmaker Volvo – helps show where the market is headed.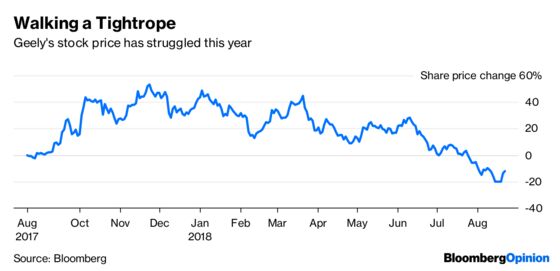 Geely reported blowout earnings (again) Wednesday, with a 50 percent increase in the first half, and said it's on track for a sales target of 2 million units by 2020 or sooner. While profit rose, so did inventories – up almost 30 percent year-on-year. Geely has outpaced much of the market by churning out a wide variety of models, especially the small SUVs and hybrids that are most in demand.
Sales growth remained above 40 percent, but it slowed. And one of Geely's most popular models, the compact crossover Boyue, has been selling at a discount of 10 percent to 15 percent since April. Still, the company said it would likely exceed a 2018 target of 1.58 million units, despite cautioning that the slowdown could continue for the rest of the year.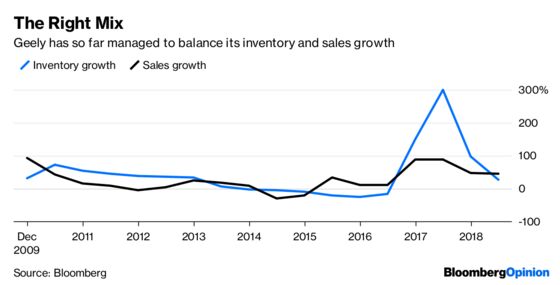 Geely's mastery of the Chinese market is now starting to face stiff competition as others catch on to its strategy: Move up the value chain and churn out multiple models of  high-margin cars quickly.  
Competitors that got it wrong in the past are adjusting (the Americans); those that lacked the capacity are adding it (the Japanese); and those that got it right (the Europeans) are doubling down. BMW Brilliance Automotive Ltd. has been offering steep discounts on its luxury cars, dragging down market prices, according to JL Warren Capital analysts.
Geely itself said Wednesday that competition will "intensify amid the transformation from conventional vehicles to NEVs and intelligent/connected vehicles, and the gradual relaxation of foreign investment in China's automobile industry."
That will make for a crowded market with abundant consumer choices. Despite total sales OF around 20 million units a year and billions of yuan in subsidies, the industry has been running on a fine balance between sales, inventory and production. This supported pricing, as we explained here. That price dynamic was China's buffer against tariffs and lower barriers to entry.
For the first time since 2015, when severe price pressure pushed the market into a deep trough from which it only recovered with massive state support, inventories and sales are converging. Overall, inventories grew 5 percent in July, while sales fell by about the same amount. To be sure, production is also slower, and inventory growth is well below the pace seen during the 2015 crunch, when stockpiles soared 50 percent or more.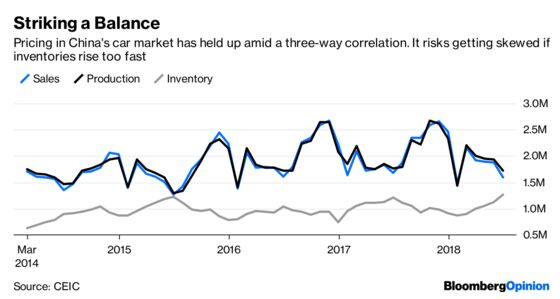 The terrain is bumpier, too. Beijing's carrot-and-stick approach to pushing electric vehicles forced carmakers to refocus – at a high cost – on that segment. Geely's Lynk & Co., maker of the fancy connected car of that name, sold more than 46,000 units in the first half and posted a net profit (with a bit of help from the in-house financing arm). Waiting times for the car are shorter now as production increases, but the Lynk risks cannibalizing other Geely models.
And Geely is still planning to add capacity. In July, the company announced the acquisition of three related companies to manufacture EVs, sedans, SUVs and larger so-called multi-purpose vehicles.
Then there's the demand side of the equation. Only carmakers able to preserve that sales-inventory-production equilibrium and keep pace with buyers' tastes will stay the course as consumer spending slows and the economy sputters. The road ahead looks narrower still.
This column does not necessarily reflect the opinion of the editorial board or Bloomberg LP and its owners.
Anjani Trivedi is a Bloomberg Opinion columnist covering industrial companies in Asia. She previously worked for the Wall Street Journal.