Crypto Trading Firm Rents World's Priciest Offices, Paper Says
(Bloomberg) -- A cryptocurrency trading platform co-founded by former Citigroup Inc. trader Arthur Hayes just rented the world's most expensive offices, a Hong Kong newspaper reported.
BitMEX leased the 45th floor of the Cheung Kong Center, the Hong Kong Economic Times reported Wednesday, citing people it didn't identify. The skyscraper is home to Goldman Sachs Group Inc., Barclays Plc, Bank of America Corp., the securities regulator, Bloomberg LP and billionaire Li Ka-shing's empire.
Cryptocurrency firms are trying to vault from the fringes of finance to the mainstream despite a 65 percent slump in Bitcoin prices from December's peak raising questions about the industry's sustainability. Splashing out on expensive offices may be a sign of how trading venues like BitMEX can prosper even when volatile markets cause investors pain.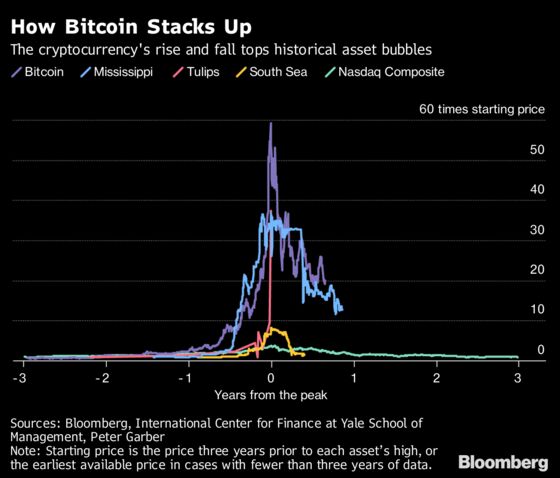 Hayes didn't respond to emails seeking comment.
Back in January, when Bloomberg interviewed Hayes, BitMEX was in sparsely-decorated offices in a logistics and warehouse district on the other side of Victoria Harbor. Rents in the building were HK$25 ($3.18) per square foot , according to an advertisement in a nearby real estate agency. That compares with a record HK$225 per square foot for the Cheung Kong space cited by the Hong Kong Economic Times.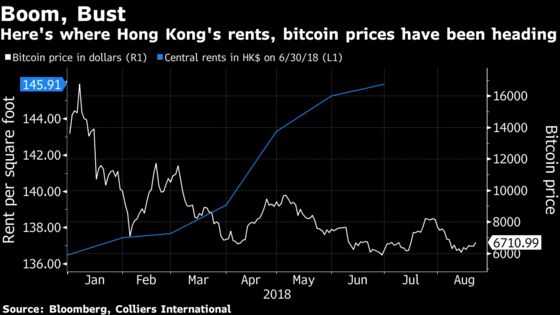 Laid off from Citigroup, Hayes was inspired to co-found the business in 2014 after he discovered he could make "easy money" by exploiting price differences for Bitcoin in Hong Kong and China. Today, BitMEX offers leveraged contracts bought and sold in the cryptocurrency.
According to the Hong Kong Economic Times, the firm's expansion plans spurred the decision to rent an entire floor of the Cheung Kong Center -- about 20,000 square feet -- after BitMEX earlier considering taking only half that.
Unlike Bitcoin, Hong Kong's property prices have only been moving in one direction. The Central district has the world's highest office occupancy costs, according to CBRE Group Inc., which cited a survey from the first quarter. It was the third year in a row that Hong Kong had topped the survey. London's West End was in the No. 2 spot.