Bitcoin Technical Sign Suggests Selloff May Be Almost Over
(Bloomberg) -- Bitcoin believers may be able to breathe a sigh of relief: A key technical signal could augur the end of the latest selloff.
The GTI VERA Convergence Divergence Indicator looks poised for a trend reversal that would benefit Bitcoin bulls. The last time this signal pointed to a reversal, Bitcoin surged 39 percent the following month.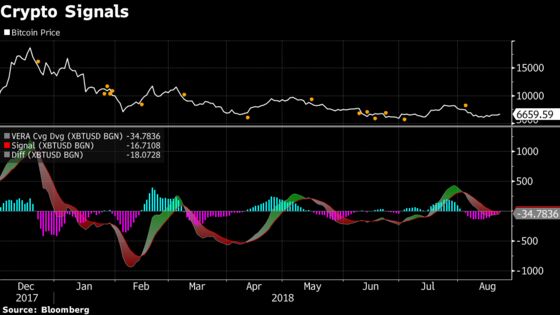 Essentially, the GTI VERA Convergence Divergence detects trend reversals and exhaustion. It takes the traditional MACD, or moving average convergence divergence, that technical traders typically use, but eliminates noise by utilizing its proprietary VERA, or volatility explosion relatively adjusted, theory.
The top crypto coin has plummeted more than 50 percent this year after reaching nearly $20,000 in December. It is now trading around $6,500.