Turkish Banks' European Deposits Get Regulators' Scrutiny
(Bloomberg) -- Austria's banking supervisor has tightened its monitoring of Turkish banks' local subsidiaries amid the slump in Turkey's currency.
The regulator, known as Finanzmarktaufsicht, or FMA, is receiving daily updates about the liquidity situation at the Austrian units of DenizBank AS and Turkiye Vakiflar Bankasi TAO, a spokesman for the FMA said Monday. There have been no "extraordinary developments" so far, the spokesman said.
The Austrian scrutiny comes after years in which the local units, DenizBank AG and VakifBank International AG, joined other international lenders in wooing German depositors with generous interest rates and recycled them into euro- and dollar-denominated loans to corporate clients in Turkey, their financial disclosures show.
"There are no signs of extraordinary conditions at DenizBank's side and its subsidiaries, as well as the overall banking sector in Turkey," DenizBank AG said, citing a statement from its parent company. The "necessary steps have been taken simultaneously by the national authorities along with the whole banking system," it said. VakifBank didn't reply to emails seeking comment.
The Turkish lira has slumped to less than 15 euro cents from about 22 cents at the start of the year as U.S. President Donald Trump imposed sanctions against the country, exacerbating existing concern about President Recep Tayyip Erdogan's unorthodox approach to economic policy that had weighed on the currency. The decline means a 1 million-euro loan has grown by more than half in lira terms in that period, to about 7 million lira.
"The risk is probably not systemic for the European banking system in itself," said Jon Harrison, an analyst at TS Lombard in London. "The bar could be lower for someone in Germany to take their money out of a Turkish bank and deposit in a German bank, than for someone in Turkey to remove their funds from Turkish banks -– raising the risk of a bank run." Though that point hasn't come yet, that could be a way the situation could deteriorate, he said.
DenizBank's Austrian unit had 8.3 billion euros ($9.6 billion) in customer deposits at the end of 2017, more than four times the level of 2010. It's currently offering 0.4 percent interest for overnight deposits starting with 100 euros, according to its website. That's one of the most attractive offers in Germany, according to a ranking by Tagesgeld, a local personal-finance site. Most German banks only offer 0.1 percent or even less.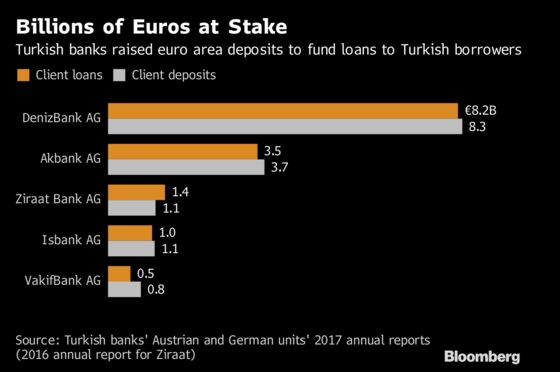 DenizBank AG had lent 8.2 billion euros to customers by the end of last year, of which 5.7 billion euros was to borrowers in Turkey and 2.5 billion euros to other non-Austrian customers, according to its latest consolidated annual report. More than three-quarters of the customer loans were denominated in euros or U.S. dollars, exposing borrowers with Turkish revenues to currency risks due to the plunge by the lira.
DenizBank AG and VakifBank AG are advertising for deposits in Germany through branches of their Austrian units, which are members of the Austrian deposit insurance system of privately-owned banks. That means their German depositors would have to apply to an out-of-country institution to be reimbursed in a scenario where they couldn't redeem deposits.
DenizBank is also currently locked in an unfinished ownership transfer as its current owner, Russia's Sberbank PJSC, has agreed to sell the bank to Dubai-based Emirates NBD, and analysts have speculated that deal could be renegotiated or dropped.
Other Turkish banks including TC Ziraat Bankasi AS, Akbank Turk AS and Turkiye Is Bankasi AS, known as Isbank, have German subsidiaries taking deposits. Ziraat Bank AG wasn't immediately able to comment. Representatives for Akbank AG declined to comment.
Isbank AG "is operating under the supervision of the German banking authorities within the permitted rules and regulations, which include specific country, borrower and sector limits," a representative said by email. The recent lira volatility "does not have a direct impact to our balance sheet as the Turkish lira assets constitute a negligible share within our total assets."
"The lira decline poses a big problem to the subsidiaries of Turkish banks," said Edgar Loew, a banking expert at the Frankfurt School of Finance and Management. "If push comes to shove, those subsidiaries will need to be saved by their parents." Austria and Germany's deposit insurance programs could have to step in if parent companies become unwilling or unable to help, Loew said.