Thailand's Junta Leader Says Elections Are Likely on Feb. 24
(Bloomberg) -- Mark you calendars, but only tentatively: Thailand may have a general election on Feb. 24 after more than four years of military rule.
The government will "unlock some issues" and start talks with political parties next month, Prime Minister Prayuth Chan-Ocha said in a briefing, without elaborating on those issues. He was speaking after a Cabinet meeting Tuesday in southern Chumphon province.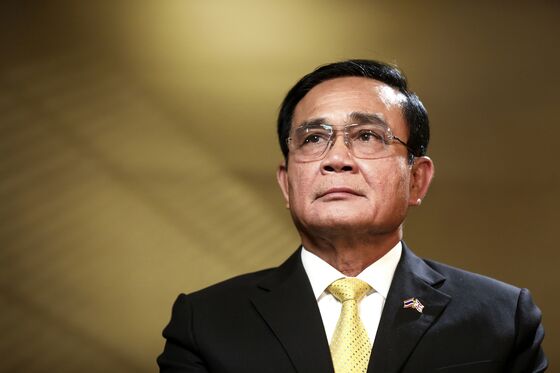 "If we can do it, we will do it in February," Prayuth said, adding the vote should take place on Feb. 24. "If we can't do it, we will discuss that later."
Former army chief Prayuth seized power in Thailand in May 2014 after a prolonged period of sometimes bloody unrest, pledging to restore stability and revamp the country's political system. The military administration has repeatedly pushed back the timeline for the return of elections and continues to ban political activity, although some new parties have been allowed to form.
A few recent Cabinet meetings took place outside of Bangkok, approving policies that would benefit provincial voters and sparking speculation Prayuth is trying to bolster his election credentials.
The meeting Wednesday in Chumphon approved, in principle, 200 billion baht ($6.1 billion) of infrastructure and other development projects for the south, although it was unclear if any funding has been allocated yet for the plan.
Prayuth denied he was seeking any political gain from the initiative.
In an interview in June, he said he was considering joining a party to ensure that his policies continue under the next administration, and that he may decide whether to enter the political fray in September.
Standard Chartered Bank expects further progress toward general elections will likely trigger greater capital inflows to Thailand. A report Monday showed the economy expanded 4.6 percent in the second quarter, exceeding the expectations of many analysts.
But there may be longer term risks after the poll. Prayuth will likely return as prime minister, but the falling popularity of the junta means social stability could deteriorate, BMI Research wrote in July.
In the years before the most recent army takeover, fissures in Thai society triggered violent clashes between urban royalists and rural backers of exiled former leader Thaksin Shinawatra. Allies of Thaksin have won every election dating back to 2001, only to be unseated by the courts or military.