Trade War Takes Its Toll on Swiss Watch Sales
(Bloomberg Opinion) -- Set your watches for the luxury slow down.
As if to confirm investor worries that the bling boom can't last forever, Swiss watch exports cooled in July.
The 6.6 percent growth in sales abroad is about half the pace seen in June. Adjusting for the one extra working day in July means growth for the month was just 2 percent, according to Luca Solca, analyst at Exane BNP Paribas. Shares in both Richemont and Swatch Group AG fell.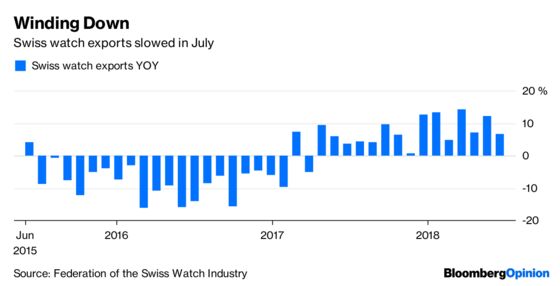 As trade tensions between the U.S. and China pick up, luxury seems to be ticking down. Shipments to both China and the U.S. actually fell. Hong Kong remained a bright spot, bolstered by favorable currency movements that encouraged tourist spending.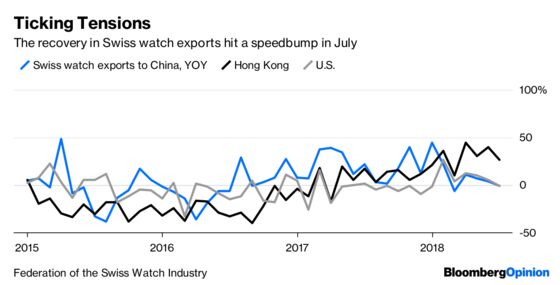 It's an omen for the industry's big houses. So far, Kering SA, Hermes International and LVMH haven't seen any weakening in demand from Chinese consumers, which account for about a third of global demand. But that could soon change.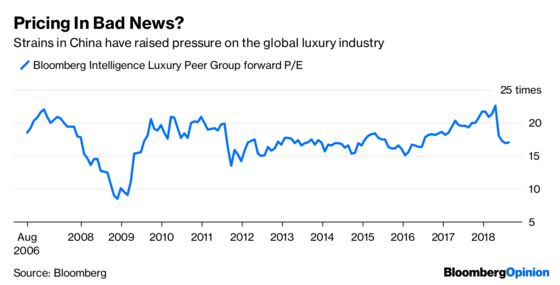 The declining Chinese stock market won't do anything to improve sentiment – my Opinion colleague Shuli Ren has noted that the mainland is in solid bear territory, and that consumer confidence has already weakened. 
Add in the fact that luxury valuations are still not far off their highs for a decade, and investors have reason to become even more cautious. I have already noted that Farfetch U.K. Ltd, in announcing its $5 billion initial public offering, looks to be cashing in on the demand for Gucci handbags and Balenciaga trainers before the cracks start to show.
One blip in Swiss watch exports doesn't mean the end of the remarkable recovery the luxury industry has enjoyed over the past two years. But it's another reason to be nervous.
This column does not necessarily reflect the opinion of the editorial board or Bloomberg LP and its owners.
Andrea Felsted is a Bloomberg Opinion columnist covering the consumer and retail industries. She previously worked at the Financial Times.