Stealth Bear Market in International Stocks Rising Steadily
(Bloomberg) -- The week the bull market in U.S. stocks is said to become the longest ever, international investors could be forgiven for not raising a glass to their American counterparts.
The percentage of non-U.S. members in the Bloomberg World Index currently in a bear market has risen steadily through the year and is now just below 28 percent, according to Bloomberg calculations. In contrast, just 8 percent of the U.S. stocks in the gauge are down 20 percent or more in 2018.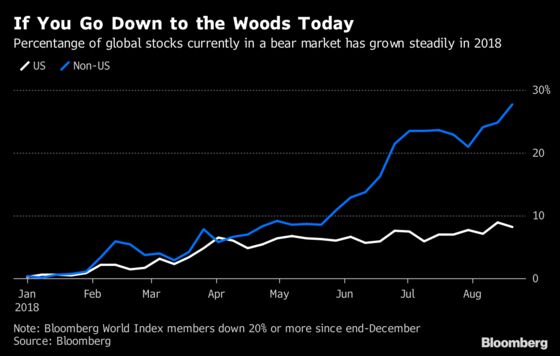 A combination of a robust domestic economy, buoyant technology sector and strong dollar has boosted the attraction of U.S. equities at a time when other markets around the world are suffering. Emerging market shares have been hit by the recent turmoil in Turkey, Chinese stocks by concerns about a slowing economy and European equities by worries over trade and banks.
The Bloomberg World Index has fallen about 2 percent year-to-date versus a more than 6 percent gain in the S&P 500 Index, which lies within a percentage point of its record high reached in January.
With investors at their most bullish on U.S. stocks since 2015, many analysts see the divergence as an opportunity for global shares rather than a warning sign for their American peers.
"International equities have underperformed during the recent trade dispute -- making for relatively attractive valuations," Chris Haverland, global asset allocation strategist for Wells Fargo Investment Institute, said in a recent note to clients. "Any forward progress on the trade front, along with dollar weakness, could provide a catalyst for these markets to catch up with their U.S. counterparts."