Demand Soars at South Africa Bond Sale as Local Investors Step In
(Bloomberg) -- Demand soared at a weekly auction of South Africa government bonds as local investors stepped in to snap up yields pushed higher by foreign selling.
The primary dealers that buy bonds directly from the government placed 16.3 billion rand ($1.1 billion) of orders, or almost seven times the 2.4 billion rand of securities on sale, according to data published by the central bank. That's the most since March, when the government reduced the amount of notes sold every week from 3.3 billion rand.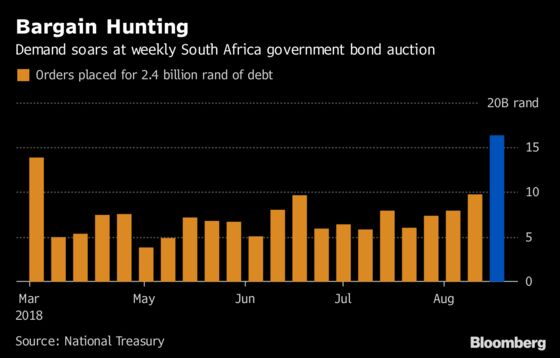 The auction showed that there is plenty of demand for government bonds from South Africa's 2.3 trillion-rand investor base even as foreigners dump the debt. Non-residents have offloaded a net 63.6 billion rand of South African bonds since the beginning of April amid an emerging-market sell-off sparked by rising U.S. rates, a stronger dollar and geo-political tensions including Turkey's financial crisis.
The outflows reached a 30-day average of 1.8 billion rand in mid-June, the most on record, with yields on benchmark 2026 securities rising to 9.15 percent. Levels above 9 percent "look attractive," according to Deon Kohlmeyer, a trader at FirstRand Bank Ltd. in Johannesburg.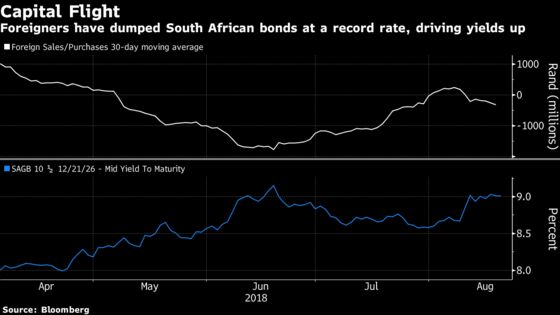 Investors were also locking in yields before the release of consumer-price data on Wednesday, Kohlmeyer said. The inflation rate probably climbed to 5.1 percent in July, from 4.6 percent the previous month, according to the median estimate of economists in a Bloomberg survey. Yields could fall if the rate undershoots expectations.
Yields on the 2026 notes dropped three basis points to 8.98 percent on Tuesday, paring the rise this month to 40 basis points.