Turkey Gets Swap Deal With Qatar to Bolster Lira as Markets Fret
(Bloomberg) -- Qatar agreed to help the Turkish economy weather a currency rout with a credit line to backstop its financial system, the first concrete measure after the Gulf nation pledged as much as $15 billion of investment in Turkey.
The lira weakened, with the prospect of further U.S. sanctions targeting President Recep Tayyip Erdogan's government keeping traders on edge as the nation's bond and equity markets closed for a weeklong public holiday. Turkey's credit rating was cut further into junk territory on Friday by S&P Global Ratings and Moody's Investors Service.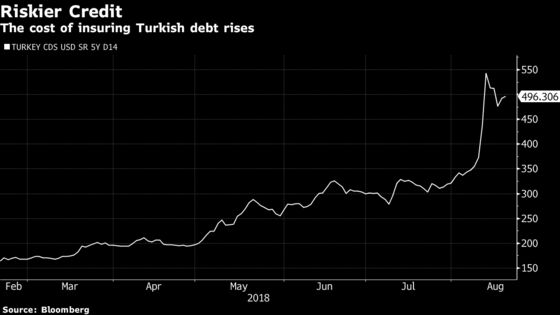 The swap agreement between Qatar and Turkey aims to facilitate trade between the two countries, support financial stability and provide liquidity, according to the Qatari central bank. The overall limit on the agreement is $3 billion, the Turkish central bank said.
An escalating dispute over U.S. pastor Andrew Brunson's continued detention has roiled financial markets in Turkey and beyond, having sent the lira down more than 20 percent against the dollar the past three weeks. Turkish authorities have so far resisted raising headline interest rates to stem the rout, resorting instead to tightening liquidity and increasing the cost of betting against the currency. The Trump administration has rejected an effort by Turkey to tie Brunson's release with relief for a Turkish bank facing U.S. fines, Wall Street Journal reported, citing an unidentified senior White House official.
Six shots were fired towards the security gate of the U.S. Embassy in Ankara from a car around 5:30 a.m. Turkish time, according to statement from Ankara Governorship. The attack was a "clear provocation," CNNTurk cited AK Party spokesman Omer Celik as saying.
Societe Generale SA sees the lira weakening to 8 per dollar -- it started the year stronger than 4 -- before reaching "the pain threshold that compels Turkey to compromise on some of its strategic objectives," said Phoenix Kalen, a London-based strategist. Kalen no longer expects the central bank to raise its benchmark 17.75 percent repo rate before its next scheduled meeting on Sept. 13.
By shutting banks off from borrowing at that rate and forcing them to turn to the overnight lending rate -- currently at 19.25 percent -- policy makers have effectively enacted a 150 basis-point hike. The banking regulator has also placed limits on local banks' swap and swap-like transactions in a effort to deter short sellers in the currency, a move that some analysts say will weigh on investor demand for other Turkish assets.
Turkish markets closed after the morning trading session today for the religious holiday of the Feast of Sacrifice and will reopen on Aug. 27. The lira weakened as much as 2.2 percent against the dollar to 6.1519 amid thin liquidity before paring its decline to trade at around 6.10 per dollar as of 1:46 p.m. in Istanbul.