Bank of Thailand Governor Strikes Hawkish Tone as GDP Gains 4.6%
(Bloomberg) -- Thailand's central bank governor struck a hawkish tone after robust economic growth data on Monday, saying officials are waiting for the right time to consider what would be the first interest-rate hike since 2011.
There is less need now for an extremely accommodative stance from the Bank of Thailand since the recovery in the economy is clearer, Governor Veerathai Santiprabhob told reporters in Bangkok. Thailand can't go against the global trends in interest-rate policy, he said.
"We need to look at policy space in the future -- we need to have enough bullets in hand," he said, adding that the monetary policy committee will consider the inflation outlook, the strength of the economy and financial stability when deciding on borrowing costs.
The comments came hours after a government report showed Southeast Asia's second-largest economy expanded 4.6 percent in the second quarter from a year earlier, underpinned by solid export growth and domestic spending. A senior official at the central bank said last month that growth of 4.5 percent or more in the second quarter could boost the odds of a rate increase.
Key Highlights of GDP report
Gross domestic product rose 4.6 percent from a year ago, down from a revised 4.9 percent in the first quarter, but higher than the 4.4 percent median in a Bloomberg survey
The government retained its 2018 growth forecast of 4.2 percent to 4.7 percent, while raising the estimate for export growth to 10 percent from 8.9 percent  
Growth in private consumption accelerated to 4.5 percent in the second quarter, while investment also picked up. Goods exports surged 7.4 percent, up from 4.7 percent expansion in the previous three months.
The central bank has left its benchmark interest rate near a record low of 1.5 percent for more than two years, in contrast to Asian emerging markets from Indonesia to India, which have tightened monetary policy in the face of higher U.S. borrowing costs and financial market turmoil.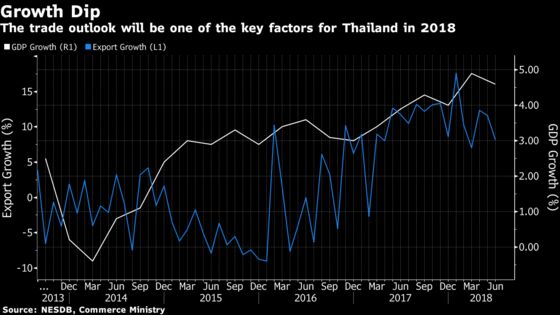 Thailand's hefty foreign reserves and sizable current-account surplus has sheltered the currency from the worst of the emerging-market turmoil. Along with relatively benign inflation, that's allowed the Bank of Thailand to stand pat on interest rates.
Veerathai's comments suggest policy makers are looking for ways to exit the low-rate environment. Even though Thailand may need to raise rates in the future, policy would remain accommodative, though not extremely accommodative, he said.
While Thailand's economic recovery is continuing to gain traction, supported by solid trade gains and tourism receipts, global risks are mounting. Trade tension between the U.S. and China threatens to disrupt regional supply chains but could also prompt some firms to shift production to places like Thailand.
So far, the direct effect has been limited, said Thosaporn Sirisumphand, secretary general of the National Economic & Social Development Board, which released the GDP data.
Tourism growth may also come under pressure after more than 40 Chinese visitors were killed when the tour boat carrying them sank off the coast of Phuket in July. Thosaporn lowered the 2018 projection for revenue from foreign tourists to 2.15 trillion baht ($65 billion) from 2.23 trillion baht.
The monetary authority could raise borrowing costs for the first time since 2011 as early as its next policy meeting in September, Tim Leelahaphan an economist at Standard Chartered Bank in Bangkok, said in a Bloomberg Television interview. Nomura Holdings Inc. continues to see a hold.