PepsiCo's $3.2 Billion Bet on Thirsty Millennials
(Bloomberg Opinion) -- Paying up for trendy brands that appeal to millennial tastes is a well-trodden path for lumbering consumer giants.
Now PepsiCo Inc. is splashing out on a name that resonates most with children of the 1970s and 1980s – fizzy-drink machine maker Sodastream International Ltd. For outgoing Pepsi CEO Indra Nooyi, the $3.2 billion takeover is an expensive way of tapping into the market for sparkling water and the growing aversion to single-use plastic bottles.
Not long ago, Sodastream seemed condemned to niche status or worse. A botched expansion in the U.S. earlier this decade proved costly. Marketing costs were pumped up, squeezing margins, as the company tried to persuade cola drinkers they could make better versions of Pepsi and Coke at home. The drive failed to secure sticky customers. Meanwhile, the firm attracted controversy over a factory in the West Bank, which it closed in 2014. By 2016, Sodastream was all but forgotten by international investors, its market value falling to roughly $250 million.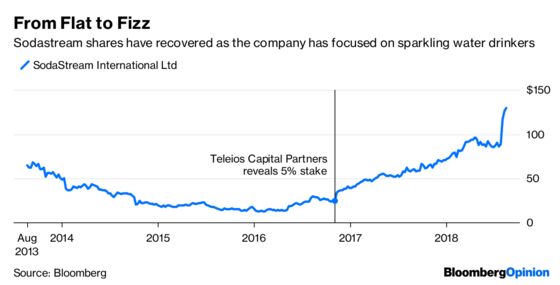 Activist investor Teleios Capital Partners landed on the register not long afterwards and successfully nominated a former CFO of Nestle's Nespresso operation to the board. Sodastream has since focused on its core customers: sparkling water drinkers who are more likely to keep using their machines and be reliable buyers of the gas canisters the contraptions use. The latest quarterly results confirmed a return to growth, sending the shares up 23 percent.
An improved financial performance doesn't make the deal math any less eye-watering for Pepsi. At $144 a share, the takeover price is 34 percent more than the company's share price just after July's results. Deduct Sodastream's cash, and the takeout valuation is equivalent to 25 times the last 12 months' Ebitda, falling to a still-high 20 times using forecasts for 2019. The initial return on investment looks set to be a distinctly flat 4 percent.
Nooyi is due to step back in October, so it will be for her successor Ramon Laguarta to make this transaction pay off. When established names buy niche brands, the thinking is that the high earnings multiples paid rapidly shrink after sales are boosted by shunting the newly acquired products through a global distribution network. That's easier to see in the case of, say, a shampoo or herbal tea than it is for a piece of kitchen equipment requiring repeated refills.
But business models based on consumables like razor blades or coffee capsules do work. Flavorings – witness the resurgence of La Croix water in the U.S – could add to that, but the real money in Sodastream is in the fizzy refills. Distributing compressed gas canisters is more complicated than ordinary groceries, providing some barriers to entry.
Pepsi is buying an asset in an interesting market to which it can bring some expertise. The acquisition gives it some diversification. A decent return will have to follow if the deal isn't to fall flat.
This column does not necessarily reflect the opinion of the editorial board or Bloomberg LP and its owners.
Chris Hughes is a Bloomberg Opinion columnist covering deals. He previously worked for Reuters Breakingviews, as well as the Financial Times and the Independent newspaper.