Pepsi Analysts Question SodaStream Synergies, Strategic Fit
(Bloomberg) -- Far be it for PepsiCo Inc. to be left out of the M&A game in the soft drink industry.
The soda company's deal to acquire SodaStream International Ltd. follows Coca-Cola Co.'s acquisition last week of a minority stake in Bodyarmor, a sports-drink maker whose backers include former basketball star Kobe Bryant, and the merger last month of Keurig Green Mountain and Dr. Pepper Snapple Group.
Analysts agree that the deal signals a bigger push toward healthier beverage choices -- recall that Pepsi launched flavored sparkling water brand, Bubly, in February. Meanwhile, recent Nielsen data continue to show that consumers "prefer healthier beverage alternatives to soda," writes Cowen analyst Vivien Azer in a note.
That said, Purchase, New York-based PepsiCo has no near-term plans to bring its branded flavored products to market, and there appears to be few synergies, with some analysts questioning the strategic fit.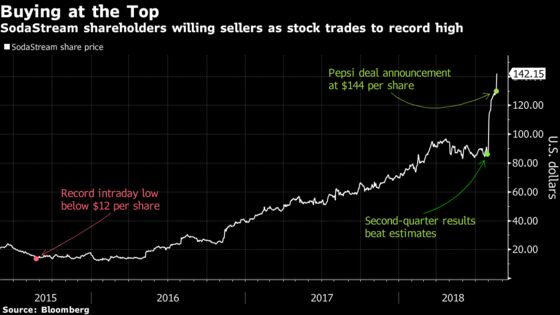 Here's what analysts are saying:
Pepsi "sees the acquisition as an opportunity to align with its enhanced focus on its water business, including recent launches in LifeWTR and its roll-out of the Bubly brand."
"However, as PEP has no intention of using its brands with SODA's appliances, the deal raises questions about strategic fit and synergies from the deal."
While Pepsi had reportedly been interested in SodaStream before, "it is logical that after SODA's material stock price improvement since lows of" less than $12 per share a few years ago, "the Board became more willing sellers."
Grundy rates Pepsi hold, price target $107.
Morgan Stanley, Dara Mohsenian
"To put the deal in perspective, the $3.2 billion purchase price is a modest" 2.0 percent of Pepsi's enterprise value. As such, the deal does "little to change our viewpoint" on Pepsi shares.
Mohsenian says the acquisition is "a play on health/wellness and sustainability trends (home carbonation including a reduced consumer plastic footprint)" and sees SodaStream "growing household penetration potential over time."
SodaStream has "plenty of room for geographic expansion" and is "a high growth business," with 31 percent revenue growth year-to-date and 14 percent growth last year. That said, Mohsenian estimates the business would have a limited 10 basis point positive impact to Pepsi's pro-forma organic sales growth given its small size.
The analyst does question the timing of such a deal, "why now with a more expensive price after SodaStream's run-up in the last couple of years"
Mohsenian rates Pepsi overweight (price target $127)
BMO Capital Markets, Amit Sharma
The deal "potentially signals increasing efforts to shift toward healthier, on-trend beverage offerings, given SODA's attractive exposure to the fast-growing sparkling water category, recurring revenue model, and ample runway for geographic expansion."
Sharma estimates the purchase "to be largely neutral" to 2019 EPS, given "minimal/no initial cost synergies, investments behind household penetration, and acquisition-related amortization."
"The transaction is likely the first of several other initiatives to re-orient PEP's beverage portfolio towards healthier, on-trend categories" given the "impending change" in leadership at Pepsi.
BMO rates Pepsi shares at market perform, with a price target of $110.
Wells Fargo, Bonnie Herzog
"The addition of SodaStream to PEP's portfolio should: (1) accelerate PEP's ongoing strategic shift towards adding healthier options across its product mix and (2) complement the company's growing water portfolio including its recently launched bottled sparkling water brand Bubly."
Herzog questions whether this deal will do much to solve PEP's ongoing struggle to improve volumes in its North American Beverage segment and remains concerned about challenges in Pepsi's core business
Rates market perform, price target $107.
The acquisition of SodaStream "could help PepsiCo beef up its revenue base before it offloads its U.S. bottling assets," with sales from SodaStream helping to offset "lost revenue from bottling."
In addition, SodaStream "further diversifies" Pepsi's business away from its carbonated soft drink (CSD) portfolio, which could actually be "a positive for Coca-Cola's CSD brands."
At 18x 2019 consensus estimates on SodaStream, "PEP paid a fair multiple for a scarce asset, positioned to grow Ebitda 18% and 13%" in 2019 and 2020, respectively, the analyst says. He estimates deal accretion of 3.0 percent to 2019 EPS and about 4.0 percent in 2020.
Modi rates PepsiCo sector perform, with price target of $111.
Bloomberg Intelligence, Kenneth Shea
"PepsiCo's agreement to acquire beverage appliance maker SodaStream International for about $3.2 billion in cash is an evolutionary step in the company's push to diversify from its beverage portfolio of sugary drinks."
Shea also sees the deal enabling Pepsi to "engage more directly with consumers through SodaStream's sale of flavored syrup capsules used with its machines."
"We believe that entering into an alternative beverage platform makes sense" and "focus on sparkling water is aligned with health and wellness and fits the company's Performance with Purpose vision"
According to recent Nielsen trends, "category dollar sales for sparking and still water are growing mid-to-high teens."
She has an outperform rating on PEP shares and a price target of $124.