Terror Suspect Shot in Attack on Catalan Police Station
(Bloomberg) -- A man armed with a knife was shot dead by an officer when he entered a Catalan police station in a suspected terror attack in Cornella, a town near Barcelona.
The incident took place before 6 a.m. Monday, the Mossos d'Esquadra, the police force for the Spanish region of Catalonia, said on its verified Twitter account. The incident is being treated as a terrorist attack and the probe is being led by a National Court magistrate, Catalan police commissioner Rafel Comes says in a televised press conference Monday.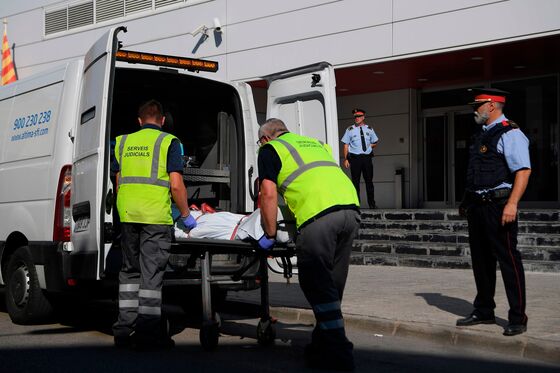 "It was an extremely serious incident," Comes said. "We are recommending measures of self-protection to be increased in all stations."
The man, who lived in Cornella, entered the police station with the aim of attacking the agents shouting several words including "Allah," Comes said. The attacker was 29 years old and of Algerian origin, Cadena Ser reported, citing unidentified people familiar with matter.
A spokeswoman for the Mossos declined to confirm those details when contacted by phone Monday.
The Catalan police along with National Police and Civil Guard are carrying out a search of a property in Cornella in connection with the attack, said Comes. The Catalan police plan a co-ordination meeting with national-wide security agencies at 5:30 p.m., during which a set of measures will be discussed.
The incident took place after Spain's King Felipe VI and Prime Minister Pedro Sanchez on Aug. 17 attended a ceremony to commemorate the victims of terrorist attacks in Barcelona and Cambrils a year ago that left 16 people dead.