Can Billionaire Mike Ashley Do the Right Thing?
(Bloomberg Opinion) -- What a difference a week makes.
Last Monday, Mike Ashley was basking in the positive glow from his rescue of House of Fraser, a move that saved jobs and stores across the country. Today, the billionaire is embroiled in a row with suppliers who lost money in the retailer's collapse and want him to compensate them.
He has good reason to be generous.
The extent of the damage to suppliers was underlined on Monday when Mulberry Group Plc, the British handbag maker, said it will set aside 3 million pounds for costs linked to House of Fraser's collapse. In total, the department store owed its suppliers about 484 million pounds ($617 million), according to EY, which is overseeing the administration.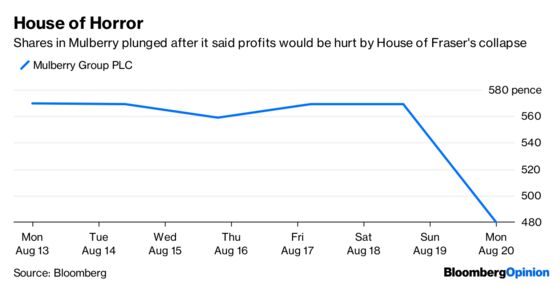 Ashley's Sports Direct International Plc is under no obligation to compensate suppliers for their losses prior to the collapse.
It wasn't involved in the management of the department store chain and has no legal responsibility for its past mistakes. Ashley has suffered, too: the value of Sports Direct's own 11 percent stake in House of Fraser has also been wiped out.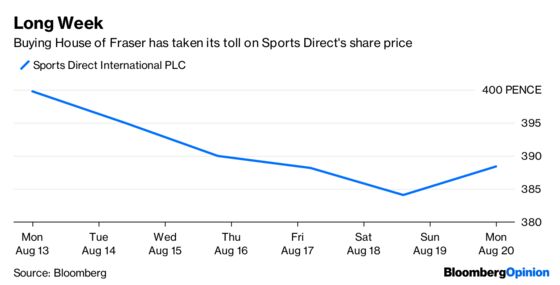 In the rescue, Ashley paid 90 million pounds in cash for House of Fraser's stores, stock and brand. He now wants to turn House of Fraser into the "Harrods of the high street."
To do that, Sports Direct will have to spend significant amounts of additional money bringing House of Fraser's down-at-heel outlets up to a standard where Valentino handbags and Moncler coats won't look out of place.
But becoming a luxury destination will also involve having the right brands in stores. That means developing relationships with the top-end names.
For Ashley, reinvigorating House of Fraser will be a much bigger undertaking than running his chain of 30 Flannels boutique stores. He will need backing from across the luxury industry. That means the support of not only the top end names, but also mid-market quality retailers, such as Jigsaw, which had removed stock from some House of Fraser stores.
Suppliers need to come to the table, too, and there are signs some may be willing. Massarella Catering Group Ltd. has pledged to continue operating its 47 coffee shops in House of Fraser stores.
While he has no obligation to suppliers, Ashley should come to some agreement on the outstanding payments to those brands and retailers that he wants to include in his effort to go posh.
This column does not necessarily reflect the opinion of the editorial board or Bloomberg LP and its owners.
Andrea Felsted is a Bloomberg Opinion columnist covering the consumer and retail industries. She previously worked at the Financial Times.