German Party Chief Raises Prospect of Aiding Turkey Amid Crisis
(Bloomberg) -- Germany could help Turkey should it become necessary, Andrea Nahles, head of Germany's Social Democratic Party, told Funke Mediengruppe in an interview published Sunday.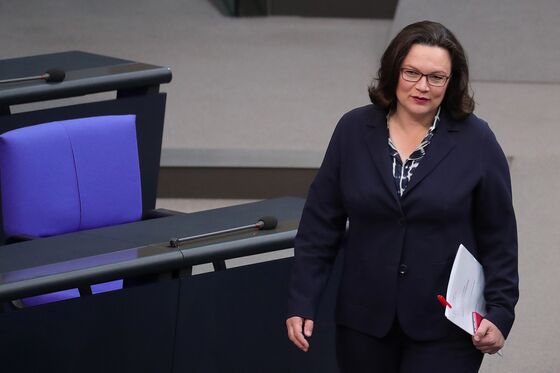 "A situation could arise in which Germany must help Turkey, regardless of the political discrepancies with President Erdogan," Nahles said, adding it's in everyone's interest that Turkey remains economically stable and that currency turbulence is curtailed.
The Social Democrats are the junior partner in Germany's coalition government, led by German Chancellor Angela Merkel's conservative Christian Democrats.
Nahles didn't elaborate further on the help her country might offer but endorsed Turkish President Recep Tayyip Erdogan's coming visit with Merkel. The Social Democrat said it is crucial to keep up dialogue on all levels with Turkey, a member of the North Atlantic Treaty Organization and part of Europe. She added that she still expects Merkel "to address critical questions including the arrest and incarceration of German citizens in Turkey."
Turkey's lira on Friday continued its slide amid credit-rating downgrades by S&P Global Ratings and Moody's Investors Service and as U.S. President Donald Trump's administration sanctioned members of Erdogan's government, part of an escalating dispute over a detained U.S. pastor. Erdogan portrayed the turmoil as an economic war waged by Washington and has resisted pressure to raise interest rates to protect the currency, a step that could curb economic growth.