Ronaldo Causes Anguish for U.K.'s Newest Sports Broadcaster
(Bloomberg) -- An upstart sports channel is lobbying English soccer authorities to overturn a ban on Saturday afternoon live match broadcasts, arguing it no longer works in a world of on-demand video and smartphone streaming.
Executives at Eleven Sports debated for weeks whether to defy the ban and show the world's top soccer star Cristiano Ronaldo making his debut in the Italian league this weekend, but they pulled back at the last minute, according to a person with knowledge of the situation. Eleven Sports holds the rights to show Italian top-flight soccer in the U.K.
Its last-minute decision means U.K. viewers won't see the Portuguese player's first 15 minutes of competitive action with Juventus Football Club, unlike millions around the globe that don't face such restrictions.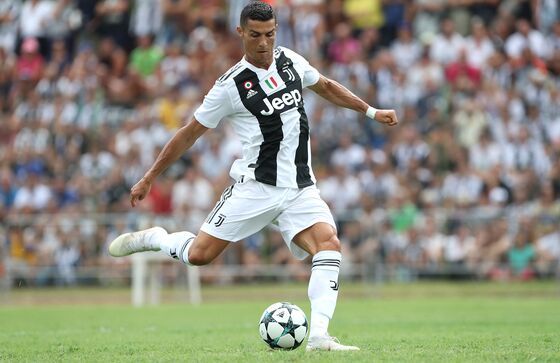 The risk is that avid British fans will seek out illegal online streaming of the games to avoid missing out. Dating back to the 1960s, the blackout window was introduced in an era when club owners feared televised sports would lead to fewer people attending matches.
Media organizations in the U.K. still respect the blackout on professional soccer games and foreign matches between 2:45 and 5:15 p.m. -- the time of day when most English Saturday league games traditionally take place.
League authorities want to preserve the blackout rule because televising dozens of live games on Saturday afternoons could affect attendance, especially at lower-league clubs.
Eleven Sports plans to show Juventus players warming up for the game against smaller A.C. ChievoVerona before cutting away for commentary and rejoining the event live from 5:15 p.m., said the person familiar with the company's plans.
It will pursue a dialogue with U.K. soccer authorities about a plan for the rest of the season, said the person, who asked not to be identified as the matter is commercially sensitive.
Facebook Inc. is also showing the match on Saturday as part of a partnership with Eleven Sports and will abide by the blackout rules, according to a person familiar with the social media giant's plans.
A spokesman for Eleven Sports declined to comment.
Founded in 2015 by Leeds United Football Club owner Andrea Radrizzani, Eleven Sports had an incentive to defy the rule after betting heavily on U.K. interest in Italian soccer.
Media consultancy Ampere Analysis estimated that Eleven Sports is paying between 25 million pounds ($32 million) and 30 million pounds for Italian and Spanish soccer rights and will need to attract 700,000 subscribers in the U.K. to generate a profit from its investment.
"Eleven Sports has aggressive ambitions in the U.K., and needs to rapidly build awareness among football fans in the U.K. before it can begin to monetize and make a return on the array of sports rights it has acquired," said Ampere analyst Richard Broughton.
The blackout convention is enshrined in the statutes of European soccer's organizing body UEFA, although it is optional -- only England, Scotland and Montenegro are signed up to it.
It has been a matter of discussion ever since Eleven bought the Italian and Spanish rights earlier in the year, but there was an increasing intensity to those discussions in the run-up to Saturday's Juventus game, the person said.
The U.K. rights to show Serie A and La Liga were held previously by Sky Plc and BT Group Plc, which dominate British soccer broadcasting.
Officials at England's Football Association could not immediately be reached for comment.