HBO's 'Succession' Exposes a Hollywood Pain Point
(Bloomberg Opinion) -- "I'm gonna be here for longer than you think," Sumner Redstone warned while grinning and wagging an index finger at interviewer Charlie Rose. Redstone was 83 at the time, and he wasn't kidding.
It was a scene fit for the fictitious Logan Roy, but took place more then a decade before the arrival of HBO's hit "Succession" — a show about an aging, malevolent media mogul unwilling to cede his throne, even to his children. No, this was 2006, and there sat Redstone, a real-life mogul, vowing to remain a key character in the drama that would later come to a boil at his companies — CBS Corp. and Viacom Inc. — and foreshadowing a period in which nearly the whole industry would face its own succession uncertainties and controversies.
The egos, the rivalries and, of course, the megamergers in the real world of entertainment and media are what "Succession" creator Jesse Armstrong recently cited as "the DNA" of the HBO program, which aired its season finale earlier this month. And while no one billionaire family represents the Roy characters entirely, there's little question that the Redstones, Murdochs and others together inspired aspects of the deliciously dark series.
The series' main theme in particular should resonate with industry insiders. Like Logan Roy, the biggest leaders of Hollywood and TV entertainment are approaching the end of long tenures with what seems like apprehension of letting go, and at a time when their businesses arguably need some fresh blood as they try to keep up with the drastic changes in consumers' video consumption appetites: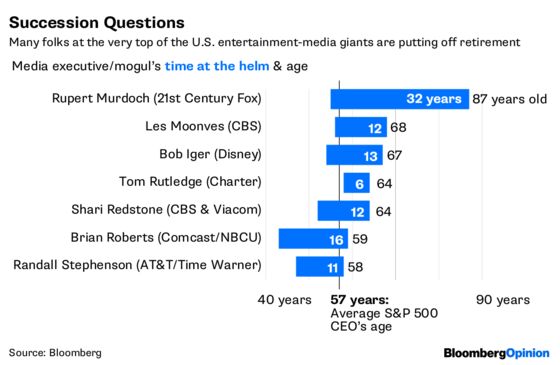 Redstone — who at 95 is ailing and unable to speak — isn't the only aging Hollywood honcho trying to keep a grasp on power (even if it's by his mere presence and iPad commands). But the mogul and the companies he controls are in a class by themselves when it comes to the level of drama taking place and the willful ignorance of good corporate governance. At CBS, a bitter feud over the future of the $20 billion company has broken out between Redstone's once-estranged daughter Shari Redstone and CBS Chairman and CEO Les Moonves, who he appointed nearly 13 years ago in splitting apart CBS and Viacom. While they battle in court, Moonves separately faces an investigation into allegations of sexual harassment involving six women he encountered professionally.
Even if Moonves somehow gets to stay in his post, he's 68 years old, and it's unclear who would replace the industry's most esteemed overseer of TV programming when he retires. Viacom, the Redstones' other property, had its turn with a power struggle just a couple of years ago and — spoiler alert, CBS — Shari Redstone won that one. But Ms. Redstone herself is 64, and seems determined to stay on long enough to chart the next phases for CBS and Viacom, such as recombining the companies and then perhaps selling them to another conglomerate as demand for content raises takeover valuations and scale becomes more important than ever. 
Over at Walt Disney Co., I've lost track of how many times Bob Iger's CEO contract has been extended, though it's not like shareholders mind; under his leadership and dealmaking the stock has outperformed. Now that he's undertaking an $85 billion acquisition of assets from Rupert Murdoch's 21st Century Fox Inc., Iger, 67, has never been more indispensable to the company. But I've explained before why that can also be problematic: The Disney conglomerate — with TV networks, film studios, theme parks, a nascent streaming business and soon the Fox assets — shouldn't become unwieldy to the point that Iger alone is seen as able to manage it.
Earlier this year, Disney extended Iger's contract once more to December 2021, though he's since given two executives expanded authority, potentially putting them in the running to be the next CEO. Hopefully they'll stick around, unlike Iger's previous successor candidates. Meanwhile at Fox, Rupert Murdoch is 87 and shares the chairman role with his son Lachlan, 46. But his other son James, Fox's 45-year-old CEO, seems ready to move on from the family business.
At Comcast Corp., CEO Brian Roberts is just 59, and is likely going to be at the helm for many more years. As I noted in June, Roberts is legally ingrained in Comcast (co-founded by his father) thanks to an unusual set of articles of incorporation that deem him chairman and CEO essentially for as long as he wishes. As with Disney, it's a case where investors aren't exactly complaining yet, though most weren't fans of his recent flirtation with an debt-laden competing bid for Fox.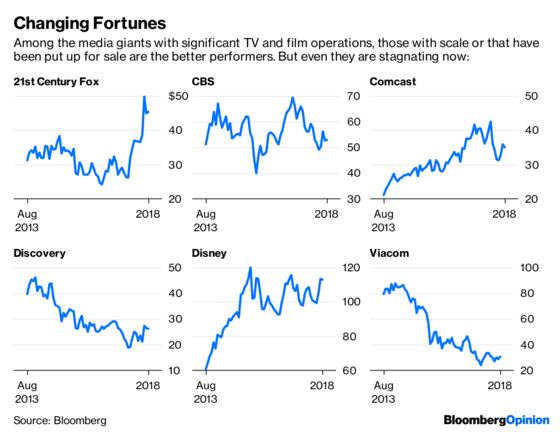 All of these figures have played important roles in not just building and growing their companies, but also shaping society through what we watch. But it's time to think about what comes of these brands in the age of Netflix and cheap digital bundles and who will drive them through this industry transformation in which tech giants have an upper hand. Shareholder support also shouldn't hinge on any one man.
John Malone gets it. The straight-talking, 77-year-old dealmaker behind the sprawling Liberty empire has always let the CEOs of his various media and entertainment businesses run things while he scopes out lucrative M&A opportunities for them. This summer, Malone unexpectedly retired from the boards of Charter Communications Inc. and Lions Gate Entertainment Corp., telling Bloomberg News's Gerry Smith that he's reducing business travel to spend more time with his wife but not stepping away entirely. Still, Malone is more comfortable talking about the future than most.
"I'm getting old," he said in the interview. "What else do people expect?"
—"Succession Questions" graphic provided by Dave Merrill
This column does not necessarily reflect the opinion of the editorial board or Bloomberg LP and its owners.
Tara Lachapelle is a Bloomberg Opinion columnist covering deals, Berkshire Hathaway Inc., media and telecommunications. She previously wrote an M&A column for Bloomberg News.