Nordstrom Reaps Rewards From a Resurgent Rack
(Bloomberg Opinion) -- Nordstrom Inc. investors weren't exactly jazzed about the long-term growth plan the retailer put forward in July, sending shares down on the day it was unveiled. The strength of its second-quarter earnings report, though, shows why investors ought to have more confidence in this leadership team and its strategy.
Nordstrom on Thursday reported a healthy 4 percent increase in comparable sales over a year earlier, powered by solid growth at both its full-line department stores and its off-price division. Its annual Anniversary Sale — an event I've said other retailers should emulate — contributed to the good performance.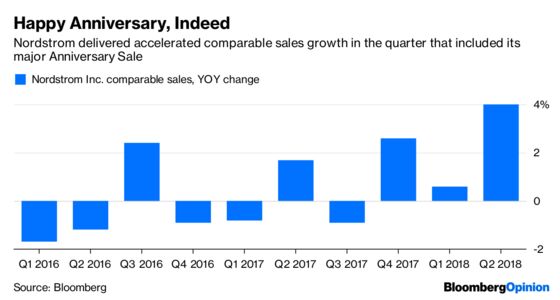 Gross margin improved to 35 percent, in part because it didn't have to resort to excessive discounting. And it raised its full-year earnings and sales guidance. 
All of this points to a Nordstrom that is holding its own in a fast-changing retail environment. But if there's one number in this report that offers particular comfort, it's  the 4 percent increase in comparable sales at the off-price division — a re-acceleration after an anemic 0.4 percent uptick last quarter.
Back in July, the company's co-president, Blake Nordstrom, was blunt about the stumble at the unit, whose centerpiece is the Nordstrom Rack chain. It wasn't, he told investors during a presentation, because of any big-picture problems in that segment of the industry.
"The ball's in our court, we need to execute better," Nordstrom said.
He said there were some fashion misses in the women's apparel part of that business, but he expected they could recover from them quickly. It appears that's exactly what happened.
You might be tempted to overlook the progress at Rack, given that the off-price division — which also includes Hautelook.com— accounted for only about 35 percent of net sales in the latest quarter.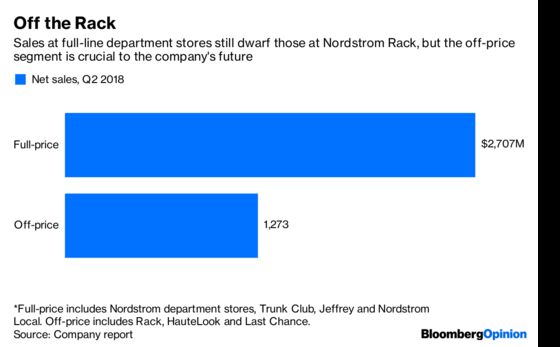 But Rack is of utmost importance to Nordstrom if the company is to achieve the guidance it has put forward for long-term sales growth and market-share gains.
For one, Nordstrom has long insisted that Rack is a key entry point for shoppers to the wider Nordstrom ecosystem. The company says one-third of the customers that shop its off-price division will shop its full-price division over time. In that previously mentioned July investor presentation, Co-President Erik Nordstrom said the company has found it "works best" when "our Rack stores were across the street from our best full-line stores — there's a synergy with customers there." So if Rack lost its luster, it would presumably become harder for the full-line department store to attract new customers.
Rack is important for other reasons, too. For one, the off-price format has proved to be somewhat Amazon-proof. It's hard, after all, to replicate that thrill-of-the-hunt atmosphere in the digital realm, which is likely why the segment as a whole has gained market share in recent years. 
Nordstrom Rack won't have an easy time of keeping up the improved performance. TJX Cos. and Ross Stores Inc. are forces to be reckoned with, and they are adding locations like crazy. But at least the brand offered some assurance this quarter that it is in the fight. 
This column does not necessarily reflect the opinion of the editorial board or Bloomberg LP and its owners.
Sarah Halzack is a Bloomberg Opinion columnist covering the consumer and retail industries. She was previously a national retail reporter for the Washington Post.