Goldman Frets a Huge Shift in Italian Debt Market Is Looming
(Bloomberg) -- The dreaded sovereign-bank "doom loop" in Europe may have weakened. Now comes the bad news.
Thanks to political risks and regulatory changes, Italian lenders may be reluctant to snap up domestic government bonds during market stresses -- a potentially huge structural shift in demand in the euro area's second-most indebted nation.
Goldman Sachs Group Inc. casts doubt on whether such institutions can go on serving as dutiful marginal buyers, a bid that's historically stabilized a market seen as Europe's Achilles' heel.
"Whether domestic financial institutions will continue to act as a steady (and potentially increasing) source of demand for sovereign duration remains a fundamental question", Goldman's Matteo Crimella wrote in a note published Wednesday.
It's a pressing issue. As Turkey contagion swept global assets this week and a tech sell-off compounded the risk-off mood, Italian 10-year yields have risen close to four-year highs.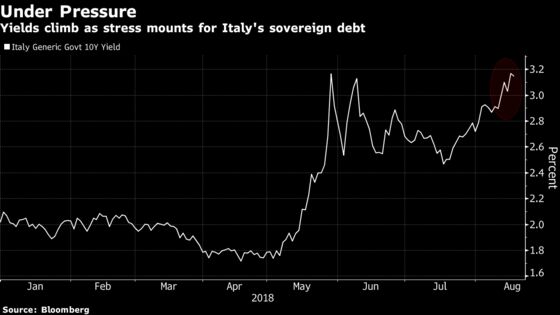 Since the crisis, policy makers and markets have grappled with the doom loop -- the risk weak banks that fund their over-indebted governments destabilize sovereign debt markets, and vice-versa.
The prospect home lenders will have the government's back no longer presents a fresh threat. What happens when those buyers go AWOL is now the key question.
The doubts stem from two issues. First, Italian banks are regulated by supranational authorities that are subjecting sovereign exposures to stress tests. That's a signal supervisors "could be slowly leaning towards opposing the 'home bias' and making banks' portfolios more diversified," notes Goldman.
Second, Italy, as ever, faces domestic challenges. Populist politicians appear determined to pursue an expansionary budget, fueling concern about debt sustainability.
That helped drive the yield spread between 10-year Italian and German obligations to 286 basis points on Wednesday, approaching the widest since May. The gap eased by five basis points as of 3:44 p.m. in London on Thursday, but remains more than 100 basis points above the five-year average.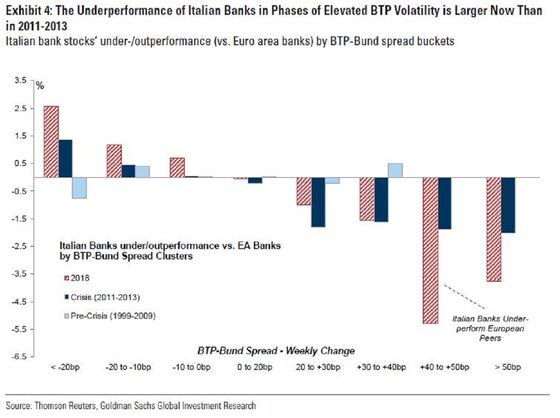 At the peak of the country's struggles to forge a coalition in May, banks increased their exposure to government notes by 11 billion euros ($12.5 billion).
In a stark reminder that the feedback loop is not yet fully vanquished, the capital hit due to Italian sovereign debt swings was higher than expected in the last quarter for at least two of the country's banks.
All of which may make lenders more reluctant when it comes to jumping into home obligations in the future, reckons Goldman. And it comes at an importune time, as the European Central Bank -- the ultimate buyer-of-last-resort -- brings its unprecedented stimulus program to a close.
"The need for a 'marginal buyer' of Italian BTPs could increase, especially should the government pursue a bulky fiscal expansion," wrote Crimella. "Any reluctance of domestic banks to fulfill that role could lead to a shortfall in demand."