Rand Sinks as a Downbeat Moody's, Naspers Spur a Perfect Storm
(Bloomberg) -- South Africa's rand was battered by headwinds including a downbeat assessment of the economy by Moody's Investors Service and a plunge in the biggest company on the Johannesburg Stock Exchange.
The currency sank as much as 3.4 percent against the dollar after Moody's said the pace of South Africa's fiscal consolidation will be slower than government forecasts due to weaker-than-expected economic growth and a rising public sector wage bill. The statement came shortly after central bank Governor Lesetja Kganyago said growth projections were "worrying," and hinted policy makers aren't about to raise rates.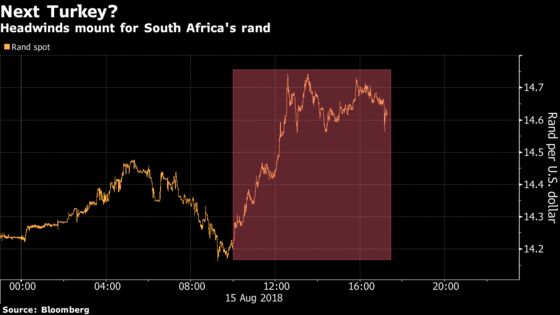 A drop in prices of the commodities that South Africa depends on for export revenue, and concerns about the government's plan to seize land for redistribution also weighed on the rand at a time when Turkey's woes are damping investor demand for emerging-market assets. South Africa is among the most vulnerable emerging markets to contagion from the Turkish crisis, according to a report by Bloomberg Economics.
"The Moody's statement is a timely reminder that South Africa faces domestic challenges at a time when the external backdrop is less positive for risky assets," said Piotr Matys, a London-based emerging-market strategist at Rabobank. "The U.S. dollar is broadly stronger on the back of widening interest rate differentials, the U.S. and China are involved in a trade war and Turkey is a major warning signal for other economies which rely on volatile capital inflows to finance current-account deficits."
Moody's rates South Africa's foreign and local debt at Baa3, the lowest investment level. A downgrade would plunge the country's local-currency bonds into junk status, spurring capital outflows as funds that track investment-grade indexes exit their holdings. South Africa depends on portfolio inflows to finance a current-account shortfall that widened to 4.8 percent of gross domestic product in the first quarter.
Naspers Ltd., which accounts for 18 percent of the benchmark stock index, tumbled after Tencent Holdings Ltd., in which it owns a 31 percent stake, missed earnings estimates. That raised concerns about outflows from the stock market, which would add pressure on the current account and the rand. The benchmark index of equities fell the most in two years.
The rand was 2.6 percent weaker at 14.6147 per dollar by 5:16 p.m. in Johannesburg, bringing its decline this month to 9.2 percent, the most after Turkey's lira among emerging-market currencies tracked by Bloomberg. Yields on benchmark 2026 government bonds climbed six basis points to 9 percent.
"Factors that have harmed the currency today include news from Turkey, which points to a deepening of the crisis there, despite the lira's bounce back," said Andre Cilliers, a trader at TreasuryOne Ltd. On the domestic front, a statement by the ruling African National Congress on land expropriation "put property rights back in focus and all the uncertainty that comes with it," he said.
South Africa should limit land ownership to 12,000 hectares per farm owner and white farmers who own more than that should cede the rest to the state without compensation, ANC Chairman Gwede Mantashe said, according to News24. The rand slumped 1.7 percent on Aug. 2 after President Cyril Ramaphosa said the party supports an amendment to the constitution to formalize expropriation without compensation, which many investors fear would undermine property rights and deter investment.
At a time when many investors are wondering which country is going to be the next Turkey, these concerns will continue to weigh on the currency.
"It's a combination of factors" that's dragging down the rand, said Warrick Butler, a currency trader at Standard Bank Group Ltd. "Take your pick."