Plus-Size Retailer Fullbeauty's Slide Deepens
(Bloomberg) -- Plus-size retailer Fullbeauty Brands Inc. slid further into distress in debt markets Wednesday after reporting a plunge in a key earnings measure. With its biggest loan now trading at about 30 cents on the dollar, the company's gearing up for talks with lenders over how to manage its increasingly burdensome debt load, people with knowledge of the matter said.
The company's sales fell more than 8 percent for the second quarter ended June 30, in part because of problems managing inventory and shipping, it told investors on a call Wednesday. Earnings before interest, taxes, depreciation and amortization -- a measure widely followed by lenders -- dropped 32.6 percent. That caused the company's leverage to balloon to more than 13 times Ebitda, from just above 11 times the previous quarter, said the people, who asked not to be identified because the results are private.
New York-based Fullbeauty has enlisted the help of restructuring law firm Kirkland & Ellis and financial adviser PJT Partners to help evaluate options for managing its $1.2 billion load, people familiar with the hires said Tuesday. Owned by private equity firm Apax Partners, the retailer has faced increasing competition from Amazon Inc. and retailers including Kohl's and Walmart who have entered into the plus-size clothing market.
Fullbeauty's cash shrunk to $16.6 million from $25.5 million in the first quarter, the people said.
A group holding a majority of the company's second-lien term loan brought in law firm Davis Polk in May. While it had not engaged in formal talks with the company, the group expects to initiate talks in the near term, people familiar with the situation said.
Representatives for Fullbeauty, Kirkland, PJT and Davis Polk declined to comment.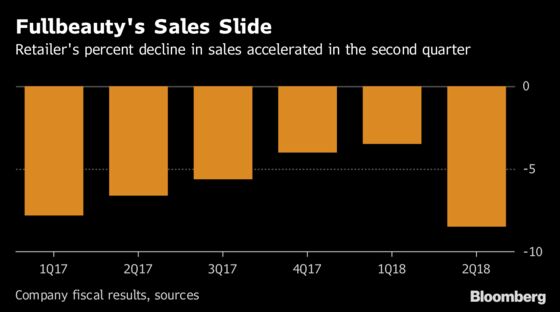 Management told investors during an earnings call Wednesday that the recent decline in sales was driven, in part, by low stocks of basics clothing, the people said. Gross margins were also down due to heavy discounting and inventory clearance. In April, management said they expect a turnaround in the second half of this year. Emilie Arel, hired in November as chief executive officer, told investors on the April call that everyone above the vice president level had been replaced since her start, the people said.
S&P Global Ratings and Moody's Investors Service both cut the retailer's ratings deeper into junk after the first-quarter results, citing a heightened risk of a distressed-debt exchange or other default. Moody's said in March that the company will struggle to improve profitability enough to refinance debt at acceptable levels over the next few years.
The retailer's borrowings including a $100 million asset-based revolver, a $786 million first-lien term loan due 2022, and a $345 million second lien term loan due 2023, according to data compiled by Bloomberg.
Fullbeauty's term loan due 2022 fell Wednesday after earnings, and was quoted around 30 cents on the dollar, down from around 40 yesterday, people familiar with the trading said. Its $345 million second-lien term loan due 2023 also dropped below 10 cents on Wednesday from around 13 on Tuesday.