Macy's Investors Needed This Reality Check
(Bloomberg Opinion) -- It may sting, Macy's Inc. investors, but this earnings report was the reality check you needed.
Shares of the department-store chain had soared some 66 percent year to date through Tuesday's close, making it one of the biggest movers on the S&P 500. Yes, you read that correctly: A major player in what is perhaps retail's most troubled category was getting the benefit of the doubt from Wall Street.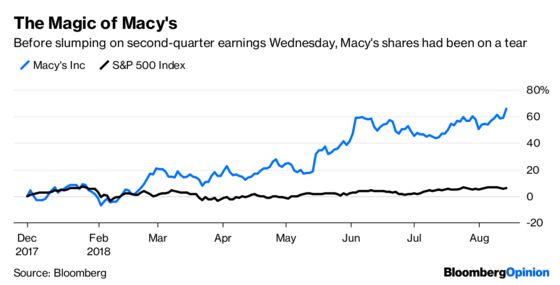 But no one should have mistaken the recent improvement at Macy's as proof of a durable turnaround. That was clear from the company's Wednesday earnings report, when it said comparable sales in the second quarter were flat from a year earlier, or up 0.5 percent if you include licensed departments.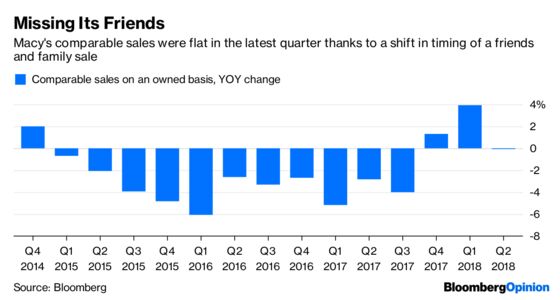 Executives had braced investors for lackluster performance on this measure, as a major friends-and-family sale had shifted into the first quarter this year after having fallen in the second quarter in the previous year. So looking at first and second quarter results combined is probably the best way to understand where Macy's is right now.
The company said comparable sales were up 1.9 percent for the first half of the year over the previous year, or 2.3 percent including licensed departments. In other words, modest progress — but not, however, a sure sign of renewed relevance.f
Macy's has taken plenty of laudable steps toward becoming a healthier company. It has closed stores and is pursuing real estate transactions to generate cash. And it's a good sign that it bumped up its full-year sales and earnings guidance on Wednesday, suggesting that it seeing results from initiatives like Growth50, a plan to bolster some of its locations with new merchandising initiatives and improved fixtures and facilities.
But it's hard to imagine a long-term future in which Macy's becomes a more vibrant, formidable retailing force simply by doing better at being a traditional department store. After all, this format faces massive challenges, given that mall traffic is sliding and powerful brands like Nike Inc. and Tapestry Inc.'s Kate Spade are trying to shift their strategies to rely more on their own retail stores and less on wholesale partners.
Macy's seems to understand that it needs to get creative. It is expanding its Bluemercury specialty-beauty chain, and adding more of its Backstage off-price sections, which are meant to offer the value-oriented, treasure-hunt-style experience that has made for strong sales at TJX Cos. and Ross Stores Inc.
It recently took a stake in b8ta and acquired Story, two startups with highly disruptive approaches to selling goods that Macy's clearly aims to learn from. Macy's is also dramatically expanding its online assortment, and I'm curious to see if that can kick its digital growth up a notch.
Those are the kind of initiatives that have the potential to really change Macy's brand identity and gird it for the future. We simply need to see a longer trail of evidence that all of those things are making an impact. In the meantime, is it any wonder that some investors are taking a breather? 
This column does not necessarily reflect the opinion of the editorial board or Bloomberg LP and its owners.
Sarah Halzack is a Bloomberg Opinion columnist covering the consumer and retail industries. She was previously a national retail reporter for the Washington Post.