For Once, Turkey's Not to Blame for South African Rand's Slump
(Bloomberg) -- It's been a tough day for South Africa's rand, and for once it's not entirely Turkey's fault.
The currency slumped more than 3 percent as investors digested downbeat assessments of the economy by Moody's Investors Service and the governor of the South African Reserve Bank, the ruling African National Congress's view that white farmers should hand over "excess" land to the state, and a steep drop in commodity prices.
To make matters worse, shares of Naspers Ltd., which accounts for almost a fifth of the benchmark stock index, plunged, dragging the gauge into its biggest fall since April and damping demand for equities at a time when investors are already wary of emerging-market assets after the Turkish lira's meltdown.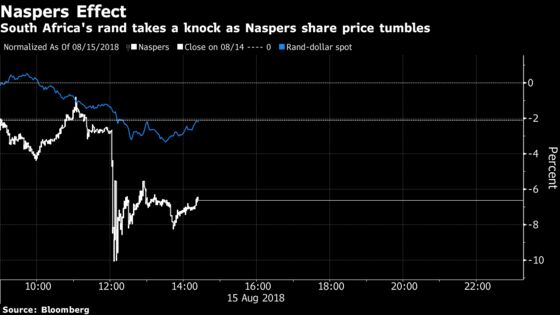 Here is what investors and analysts are saying about the outlook for South Africa's currency.
Piotr Matys, emerging-markets FX strategist at Rabobank:
"The Moody's statement is a timely reminder that South Africa faces domestic challenges at a time when the external backdrop is less positive for risky assets"
"The U.S. dollar is broadly stronger on the back of widening interest-rate differentials, the U.S. and China are involved in a trade war and Turkey is a major warning signal for other economies which rely on volatile capital inflows to finance current-account deficits"
Win Thin, head of emerging markets strategy at Brown Brothers Harriman and Co.:
"The Moody's statement is weighing on the rand today. Note that Moody's has been the most constructive on South Africa, keeping it investment grade even as it was cut to junk by S&P and Fitch"
"If you discount the flash crash in the rand on Monday, USD/ZAR is making new highs for this move. Break of 15.47 area is needed to set up a test of the January 2016 high near 17.9170"
Henrik Gullberg, executive director of emerging-market strategy at Nomura International Plc:
"Markets are sensitive to anything perceived to be 'Zimbabwe-fication' on the land-reform front"
Even though Mantashe's comments were not "real news, and was first suggested back in 2016, it does not really matter especially not in an environment of broader U.S. dollar strength"
Andre Cilliers, director at TreasuryOne Ltd.
"Factors that have harmed the currency today include news from Turkey, which points to a deepening of the crisis there, despite the lira's bounce back today"
"Gwede Mantashe's statement puts property rights back in focus and all the uncertainty that comes with it"
Richard Segal, senior analyst at Manulife Asset Management Ltd.:
The Moody's statement was "neutral to slightly positive, because its forecasts are close to the consensus, but it is relatively optimistic about the medium term and it doesn't think institutional quality has deteriorated much during the Zuma era"
"Otherwise, the decline in the rand seems largely technical, given weakness in other more liquid EM FX in generally illiquid markets"
Mehul Daya, strategist at Nedbank Group Ltd.:
Rand has weakened because of the stronger dollar, and "equity markets are weak too" as a result of the Naspers share drop
Warrick Butler, currency trader at Standard Bank Group Ltd.:
"It's a combination of factors. Naspers' fall as part of the Emerging Market Equity Index is partly to blame; TRYZAR profit-taking after the CBRT reduced FX liquidity; panic. Take your pick"