Dow, S&P 500 Test Key Support Levels With August Slump Deepening
(Bloomberg) -- The Dow Jones Industrial Average is teetering around its short-term support level as a global selloff in equities pushes it lower for the fifth time in six days.
The gauge fell as much as 1.3 percent to 24,966, briefly trading below its 50-day moving average for the first time since July 9. It's down 1.4 percent this month following a 4.7 percent rally in July.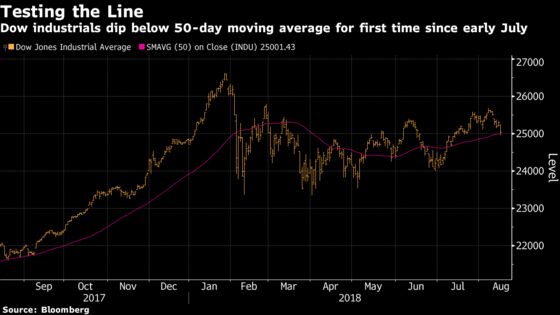 U.S. equities joined a global market decline as disappointing earnings from Chinese internet giant Tencent Holdings Ltd. roiled technology companies and a slide in oil pushed energy producers lower. Among the Dow industrials, Caterpillar Inc. plunged as much as 4 percent to the lowest in almost 10 months, Boeing Co. retreated 3 percent, while Chevron Corp. lost 3.7 percent as oil fell below $65 a barrel.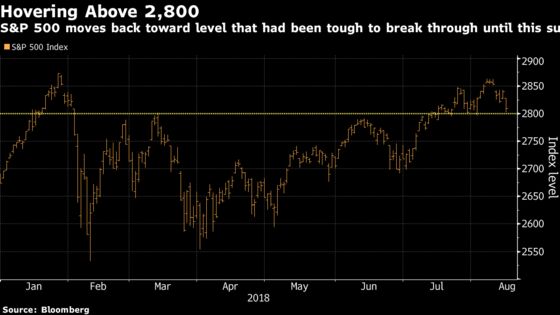 Meanwhile, the S&P 500 was moving back toward a level that until a month ago had been a ceiling during the on-again, off-again recovery from this year's market correction. A slide of as much as 1.3 percent pushed the index to within 3 points of 2,800.