Chipotle Bull Helps Erase Year's Woes With Green Light to Buy
(Bloomberg) -- Chipotle Mexican Grill Inc. shares have fully recovered from a downward spiral that started last summer and bottomed out in February, and Wall Street analysts are taking note.
The average price target among analysts tracked by Bloomberg has risen 46 percent since mid-April, struggling to keep pace with the stock itself, which is trading at its highest since March 2016 after Morgan Stanley analyst John Glass earlier upgraded the popular Mexican restaurant chain to overweight from equal-weight. Glass is now ahead of the curve, raising his price target to a Street-high $600 from $413. It was the latest in a string of nine upgrades to neutral or buy ratings since Chipotle hired Brian Niccol away from Taco Bell as its new chief executive officer in February.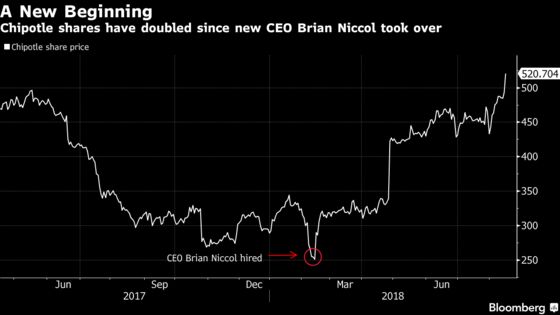 News of that management shakeup broke the evening Chipotle closed at a five-year low on Feb. 13, and the market immediately reacted, with shares more than doubling since. Glass sees the management and incentive plans targeted at delivering a bull case for earnings, while the company has "plenty of low hanging opportunities" to help sales. After years of resistance to change on its menu, the company has started to experiment under Niccol's leadership, introducing late-night deals, milkshakes, nachos and even bacon at some locations.
Aside from a brief illness scare at an Ohio location two weeks ago, Chipotle has been able to implement its changes in a year largely devoid of controversy, a welcome relief after a norovirus outbreak sent shares tumbling last July. Mockery of its new queso dip last fall -- a rare new product Chipotle did launch before Niccol took over -- didn't help the company's reputation, either.
The stock still has a long way to go to reach its record high from 2015 before a series of autumn E. coli and norovirus outbreaks slashed shares by a third through year end. But the company appears to be back on stable ground after starting the year embroiled in uncertainty.