U.K. Unemployment at 43-Year Low Fails to Ignite Pay Growth
(Bloomberg) -- U.K. unemployment dropped to a new 43-year low in the three months through June but the pace of wage growth eased.
The jobless rate stood at 4 percent, the least since February 1975, the Office for National Statistics said on Tuesday. Economists had expected it to stay at 4.2 percent.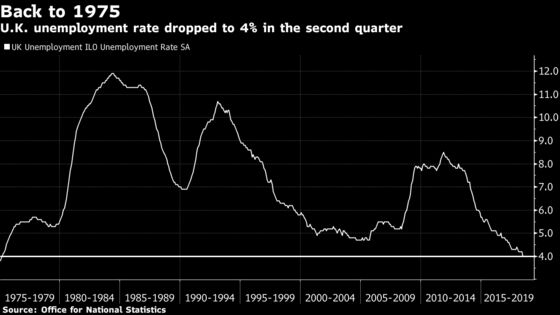 The decline helps to explain why the Bank of England increased interest rates this month. Policy makers believe inflationary pressures are building in the labor market as skill shortages force employers to raise wages to attract and retain staff. Yet the absence of stronger pay growth so far also raises questions about whether the central bank committee's unexpected unanimous decision was justified.
There was little sign of overall wages surging in the latest data -- the rate slowed to a nine-month low of 2.4 percent between April and June -- but the BOE sees a pickup toward 3.5 percent.
For policy, much also depends on productivity. Without a significant improvement, firms may find their profit margins coming under pressure and increase prices to compensate. Flash figures for the second quarter show output per hour rose 0.4 percent, leaving productivity up just 1.5 percent on the year.
The pound initially climbed after the data, before erasing its gains to trade little changed at $1.2775 as of 10:17 a.m. in London. The market-implied probability of another BOE rate hike in May 2019 edged up to about 45 percent, from 39 percent on Monday.
BOE officials expect unemployment to fall to 3.9 percent this year and Governor Mark Carney has signaled that further rate hikes will be needed to return inflation to the 2 percent target, assuming Britain avoids a chaotic departure from the European Union next year.
Wage growth excluding bonuses slowed to 2.7 percent, the weakest since January but still ahead of the 2.4 percent rate of inflation. Upward pressure on settlements is expected to come from the public sector, where millions of workers will this year benefit from the easing of a cap on pay increases in place since 2010.
"There remains precious little sign that wage growth is set to take-off -- undermining a key assumption behind the Monetary Policy Committee's recent decision to raise rates," said Suren Thiru, head of economics at the British Chambers of Commerce. "The pace at which pay is exceeding price growth remains negligible, and is therefore unlikely to provide much respite to the financially squeezed consumer."
There were other signs of weakness in the labor market report. While vacancies were at a record, the jobless rate fell thanks to people leaving the work force, and employment rose by just 42,000, less than half the increase forecast. The employment rate dipped to 75.6 percent.
The increase in employment over the past year was driven by U.K. nationals as foreigners arrive in fewer numbers since the Brexit vote. There was a record 86,000-drop in employment among EU nationals, driven by citizens of the eight countries that joined the bloc in 2004.
Separate figures showed a record drop in the number of people on a zero-hours contract in their main job, with 780,000 now working with no guarantee of hours from week to week.